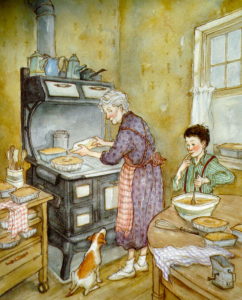 Some stories beg to be read aloud. And when the author himself–dead now for more than thirty years—narrates the tale, so much the better.
Such is the case with "A Christmas Memory," Truman Capote's wistful 1956 holiday masterpiece. It's a short story about a seven-year-old boy called Buddy, his 60-something-year-old cousin known only as "my friend," and their tough little orange and white rat terrier named Queenie. Set in rural Alabama during the Great Depression, it's a story about nothing and a story about everything.
At its core, "A Christmas Memory" is largely autobiographical. It's been called a love letter to Capote's eccentric cousin "Sook," who was part of a large household of distant female relatives with whom Capote spent his childhood. Sook was the only stable person in the boy's life. She admitted without guilt that he was the only person she ever cared a thing about.
Truman Capote took up serious writing when he was only eleven years old. In his mid-teens, he moved to New York to live with his mother and her new husband. He soon dropped out of high school and was hired to write for The New Yorker magazine and other publications. Capote is best known for his novel "Breakfast at Tiffany's" (1958) and his mega-bestseller "In Cold Blood" (1965), as well as for his lifelong friendship with novelist Harper Lee. She based the character Dill in "To Kill a Mockingbird" almost wholly on Capote. In his later years, he became infamous for his flamboyant lifestyle and for his fondness for alcohol and drugs, which helped contribute to his death in 1984 at the age of 59.
But back to "A Christmas Memory."  Buddy's friend, standing at the kitchen window on a frosty morning in late November, declares it "fruitcake weather."  Thus begins the duo's quest for ingredients for the 31 fruitcakes they'll bake: windfall pecans, whiskey (to be purchased from the giant scar-faced Indian Haha Jones) and all the other things they'll need—cherries and citron, ginger and vanilla and canned Hawaiian pineapple, rinds and raisins and walnuts, flour and butter and eggs and spices, all bought with the pennies and nickels and dimes they've earned in fascinating ways—including killing flies—over the past year.
As to who'll receive these wonderful fruitcakes, the answer is friends. "Not neighbor friends," Buddy tells us, "but for persons we've met maybe once or not at all." President Roosevelt. A pair of Baptist missionaries. An itinerant knife grinder. A bus driver. The California couple whose car once broke down in front of the house and who took the only photograph of Buddy and his friend in existence. And Haha Jones, who suggested that payment for the whiskey ought to be a fruitcake rather than money. "We'll put extra raisins in Haha's cake," Buddy's friend declares.
We watch the pair cut a Christmas tree and decorate it and make homemade gifts for everyone in the household. Buddy wants to buy his friend a pearl-handled knife, a radio and a whole pound of chocolate-covered cherries. She longs to give him a bicycle. Instead, they build wonderful kites for each other and spend Christmas afternoon flying them.
As the kites cavort in the wind, Buddy's friend delivers the story's takeaway. "I've always thought a body had to be sick and dying to see the Lord," she says. "But I'll wager it never happens. I'll wager at the end a body realizes the Lord has already shown Himself. That things as they are (she gestures toward clouds and kites and grass and Queenie) was seeing him."
That's the message of "A Christmas Memory." Read it to yourself. Read it aloud to someone else. Listen to Truman Capote read it on YouTube. It's a story about nothing. And a story about everything.
(December 22, 2019)