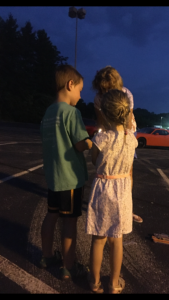 As I begin scribbling notes for this column, it's nearly midnight on the Fourth of July.
I'm sitting on the deck outside my bedroom, writing by the light of the full moon. I wonder how late into the night my neighbors will continue to shoot fireworks. I wonder how anyone has enough money to buy so many fireworks. I wonder why some folks think it okay to disturb the peace with fireworks from mid-June until mid-July.
Mostly, though, I'm counting my blessings.
I'm grateful that my dog Iniesta, whom I've written about in many July Fourth columns because she was so terrified of fireworks, will never have to suffer through this craziness again. She died last month and rests in peace in a flower-covered grave in my backyard.
I'm grateful that the stirring words of Frederick Douglass–in a speech to the Rochester, New York Ladies' Anti-Slave Society on July 5, 1852–have resurfaced as our nation continues to grapple with issues of racial equality. The speech is entitled "What to the Slave is the Fourth of July?" and can, of course, be read it its entirely on the internet. I recommend it.
And I'm grateful that my Kentucky grandkids were in Cookeville tonight to experience a real fireworks show—our annual RED, WHITE AND BOOM–for the first time. It wasn't the only "first" I've shared with them. I was there for their first boat ride, on my late father's ancient pontoon boat a couple of years ago, and for the first time they rode their bikes without training wheels when I visited them in California last year.
Now I've watched Eli and June watch their first big-time fireworks show.
Because they'd be up long past their bedtime, their parents insisted on "quiet time" (which, as hoped, became nap time) this afternoon. We scarfed down hamburgers and watermelon for supper. Then we loaded folding chairs and cold drinks into the minivan and headed to a perfect location for watching the fireworks, close enough to the fairgrounds to see and hear everything but far enough away that heavy traffic and social distancing were no problem.
Don't ask. Wild horses couldn't drag that secret out of me.
The celebration started with sparklers provided by a friend who'd learned earlier in the week that the children had never experienced them. They were thrilled to be playing with fire. So thrilled, in fact, that Eli declared it his "best day ever." Little did he know just how much better it was going to get. At 9:00 sharp, we listened to "The Star Spangled Banner" on the car radio. Then the show began.
Rockets glared. Bombs burst in air. Every blast-off and explosion was better than the one before. Fireworks spun and spiraled and rained down over Cookeville. There was never a lull in the action. It was spectacular.
The kids were mesmerized. Awed. Dazzled. They oooh-ed and aaah-ed. They clapped and clapped and clapped. They bounced up in down in their lawn chairs. So did the rest of us. At last, it was time for the grand finale. We'd talked about it all afternoon. I'd tried to explain what the term means. But there's really no way to describe the grand finale of a top-notch fireworks show.
You just have to experience it for yourself.
When it was over and the cheering died down, we piled back into the van and took a secret shortcut home. My kids and their kids are sound asleep now, oblivious to this neighborhood celebration that goes on and on and on. And I'm on my deck with notebook and pen, the heavy July air wrapped like a blanket around me, my gratitude list growing longer and longer.
Who'd have ever thought I'd put fireworks at the top of it?
(July 12, 2020)