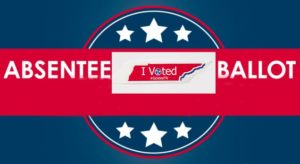 If you don't have the time or inclination to read this entire column, here's what it says in a nutshell. You must be registered in order to vote. Voting laws and procedures vary widely from state to state.  Vote as early as possible. Absentee ballots in Tennessee must be mailed to the election office, not hand delivered or put in a drop box.
I know these things because I've worked at the Putnam County election office during early voting for the past several years. I watch. I listen. I learn. I also read hundreds of Facebook posts giving incomplete or erroneous information about absentee voting.
The information in this column applies to Putnam County, Tennessee, which—of course—follows state election laws and procedures. Other states do things differently. Our first requirement for voting in person or by absentee ballot is that you must be registered to vote in Putnam County. Not sure? Call (931) 526-2566 and find out. If you're not registered, you have until October 5 to get it done if you want to vote in the November 3 election.
To vote absentee, you must meet one or more requirements. They're spelled out in detail on the election office website (putnamcounty.tn.gov/electioncommission).  If you're age 60 or older, you can vote absentee. If you're ill or physically disabled and can't get to the polls, you can vote absentee. Visit the state website (sos.tn.gov/elections) for more information on voting absentee due to Covid-19. If you're going to be outside the county during all hours of early voting or on Election Day, you can vote absentee. There are several other reasons. Check them out for yourself.
If you meet one or more of the requirements, you must submit a written request for an absentee ballot. The election office can mail or hand you a request form or you can access the questions online. Answer all questions completely and return the paperwork by mail or in person. Once the November ballot is finalized and printed (sometime in the middle of September), a ballot will be mailed to you. Requesting an absentee ballot must be done for every election. Just because you voted absentee in August doesn't mean you'll be mailed a ballot for the November election.
Here's the biggie, especially with so much uncertainty surrounding the United States Postal Service. Once you receive your ballot and decide which candidates you want to vote for, go ahead and fill in the bubble sheet. Place it in the return envelope. Put a stamp on it and mail it back. If you'd rather not use the USPS, you may mail the ballot via FedEx or UPS. You cannot hand deliver it to the election office. Despite what you may see on social media, there are no "drop boxes" for ballots in Tennessee. Not at the library. Not at the courthouse. Not outside the election office. There are NO legitimate ballot drop boxes anywhere in the state.
If you think this sounds like a somewhat complicated process, you're right. But these requirements and procedures are in place to protect your vote and to protect the integrity of our elections. The good news is that you almost certainly have time for your vote to be received at the election office by November 3 if you mail your absentee ballot as soon as possible. If your ballot arrives after 7:00 p.m. on Election Day, it won't be counted. Wouldn't that be a crying shame?
One added note: if you're mailed an absentee ballot but then decide you'd rather vote in person, you'll be required to vote a provisional ballot rather than voting on a machine. This insures that no one votes more than once.
Fair and honest elections. It's how we roll in Putnam County, Tennessee.
(August 29, 2020)