Ask Barbara Greeson what she wants for Christmas this year and you'll likely get a quick answer. Baskets of books. Kids' books, to be specific.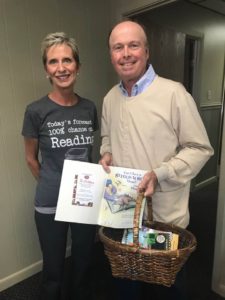 Barbara is retired from the Putnam County School System, where she taught for many years and then served as Director of Elementary Education. Her life's mission, then and now, has been to promote literacy in every way she can. "Forty percent of the children who start kindergarten in Putnam County aren't ready for kindergarten," she told me."They've been raised in an environment where adults spend little or no time reading to themselves, meaning they don't read to their children, either."Books are not the norm in these homes, so children who live there are at risk to struggle academically. "If kids are behind when they start school, chances are they're always going to be behind," she said.
While traveling out west last summer, Barbara and husband Jim stopped at a café in the little town of Moab,Utah. In the waiting area, she spotted a basket filled with children's book."It was almost like it was glowing," Barbara said. "That's how special it made me feel."
She snapped a picture with her cellphone and posted it to Facebook. "I just know something like this would work in Putnam County," she wrote. The post received lots of likes and a few comments,but the best surprise was waiting for Barbara when she got home. A friend had been to a yard sale and purchased a basket and several children's books. Barbara took this treasure to Dr. Clark Childress's office. "He's been my dentist forever," she said. "I knew he wouldn't tell me no."
He didn't. Neither have the two dozen or so other businesses where Barbara has asked to place a basket of books. Medical offices are obvious spots. But there are plenty of other places where children are forced to wait with nothing constructive to do. Take traffic court at Cookeville City Hall, for instance. "Kids are either running around and climbing on furniture and driving people crazy or they're staring like zombies at their parents' cell phones," Barbara said. "A basket of good books could help fix that."
One of the best things about the Books in Baskets program is that there's no formal budget, no paperwork and no red tape. Anyone who wants to put a basket together and place it in a willing business is encouraged to do it. Those who'd rather donate books and/or baskets may contact Barbara at [email protected] or call (931) 526-7777 and leave a message.
"We make sure our kids ride in car seats and brush their teeth and all that good stuff," she said. "The next step is to make sure they have plenty of books—NOT a cell phone!–close at hand." As to whether there's now a basket of books in City Hall, the answer is yes.
(December 16, 2018)