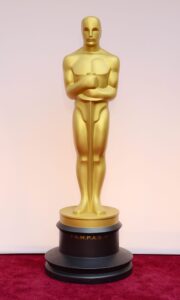 And the winner is…
 My New Year's resolutions for 2023 didn't include watching every movie nominated for the Best Picture Academy Award, but it seemed like that might be a fun thing to do. These days, if you can't or don't want to go to an actual theatre, it's easy to stream movies on TV. So when the ten nominees were announced in late January, I was ready to roll. Or so I thought.
I saw "Elvis" at the Highland 12 last summer. In truth, I only did that because I'd promised Lisa Rand, my friend and co-author of "E is for Elvis," that we'd go on opening day. We both adored the movie and Austin Butler. But at that point we could only hope it would get an Oscar nod.
Then it was fall and then it was winter and the next thing I knew there were nine more movies I needed to see over the course of six weeks if I were going to keep my quasi-resolution.  I'd never even heard of some of the Best Picture nominees. I had no desire whatsoever to sit through some of the others. But to put even a small dent in the list, I was going to have to get busy watching at least a few of them.
More time passed. I did a lot of stuff that didn't include movie watching. When the first week of March rolled around, "Elvis" was still the only nominated movie I'd seen. I shifted into high gear and, over the course of five days, watched three more of the Best Picture nominees. Impressive, right? But then the SEC men's basketball tournament began. I was conflicted. Should I fill my TV time with "important movies" or with what I really wanted to watch? What if Big Orange got on a roll and I needed to see every minute of every game they played all the way through the tournament finals on Sunday afternoon? And what about Daylight Saving Time, which would cost me an hour on Saturday night? How many movies could I realistically watch before the Academy Award winners were announced on Sunday evening?
Three, as it turns out.
The first was "All Quiet on the Western Front," which was too long and too intense and far too sad to watch in a single sitting. The movie is based on the 1929 novel of the same name, written by Erich Remarque, a German veteran of World War I. The grim reality of life in the trenches and the senselessness of war is seen through the eyes of young German soldier Paul. This is a movie you can't–and shouldn't–shake, well worthy of Best Picture.
The second movie was "The Fabelmans," written and directed by Stephen Spielberg and based on his own childhood and adolescence. The movie focuses on how the Fabelman family circumstances, particularly the parents' divorce, impacted Spielberg's career as a filmmaker. It's heart-rending and, as you might expect, excellent in every way. Also Oscar-worthy.
Third and last was "Women Talking." Adapted from a novel based on true events, the movie tells the story of a twenty-first century religious cult in Bolivia where the women are dominated and abused by the colony's men. They must decide whether to stay and submit, stay and fight or leave. It's a disturbing and important movie, but unlikely to win the big prize.
But my pick, if I had a vote, was "Elvis." And my choice for Best Actor was Austin Butler, who is even dreamier than the real Elvis, if you can imagine such a thing.
Not surprisingly, the movie I was absolutely, positively uninterested in seeing—"Everything Everywhere All at Once"–was awarded the Oscar for Best Picture. The jury is still out as to whether I'm willing to spend two hours and 19 minutes of my life watching it. Especially now that March Madness is upon us.
(March 18, 2023)