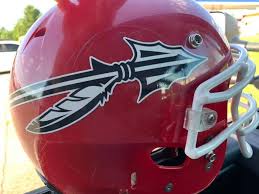 If you search for the definition of "Redskin" in online dictionaries, here are some of the adjectives you'll find as it relates to Native Americans: insulting, contemptuous, disparaging, derogatory, demeaning, old-fashioned, outdated and offensive. No dictionary suggests that the term is one of honor and respect.
Yet Redskins will, for now, remain the mascot for Algood Middle School. So said all six members of the Putnam County Board of Education in a vote on February 4, declining even to send the issue to a committee for discussion and debate.
Something tells me the Board's unanimous decision won't end the controversy.
I've not been able to find a precise answer as to when Algood School officially adopted the Redskin mascot. Citizens of Algood purchased land for a schoolhouse in 1892 but didn't construct a building until after 1900. As years passed, additional grades were added. By 1922, the school had grown to include four years of high school. In the late historian Mary Jean DeLozier's book "Putnam County, Tennessee, 1850-1970," she noted that by the 1940s, high school sports had become increasingly popular in Putnam County. Fans cheered their Cookeville Cavaliers, Baxter Bees, Monterey Wildcats and Algood Redskins. I found no mention of when and how any of those teams' mascots were chosen.
But I do know how a mascot is supposed to be chosen these days. Putnam County School Board Policy 3.210, issued on June 6, 2008 and entitled "New School Selection Procedure for School Name, School Colors, School Mascot," requires that the Board designate a committee made up of six Board of Education employees, six community members and the director of schools. The committee is to hold open meetings for input from the public and then submit suggestions in writing to the Board, which makes the final decisions by majority vote at a regularly scheduled meeting.
No mention is made in this policy of how to change a school mascot that's already in place.
But it's been done several times before. The Parkview Pandas were once the Parkview Rockets. The Sycamore Scorpions became the Sycamore Stars because, by some reports, scorpions were just too scary for little kids. By the time my own children attended Capshaw Elementary School in the 1990s, the mascot had been changed from Cobras to Cougars. When I asked why, I was told that some parents felt that snakes symbolize evil in the Bible. And let's not forget that, before Northeast Elementary School chose Eagles for their mascot, they were the Trojans. Easy to guess why that name was changed, right?
In 1966, tenth, eleventh and twelfth graders at Algood School were moved to Putnam Senior High School. Algood became a K-9 school. When middle schools became the trend in education, Algood School relocated to Dry Valley Road and served students in grades K-8, with elementary and middle school students eventually housed in different buildings on the same campus. Through it all, Redskins remained the school mascot, with Braves becoming the mascot for the elementary school.
Many folks in this community believe the word Redskins is racist and that it's time to replace it. Others contend that Redskins is a long-standing and proud name, symbolizing strength and bravery, and that it should remain the mascot.
Those familiar with school budgets have pointed out that it would cost about $70,000 to change the Algood mascot. A breakdown of these expenses includes replacing or altering banners, signs, marquees, door mats, scoreboards, artwork on school walls and gymnasium floor, sports uniforms, band uniforms, choir shirts, fan wear, and faculty/staff apparel. If the image of a Native American in full headdress were to remain but the name Redskins change to something less controversial, the cost would be slightly less.
Clearly, there are no easy answers. But there remain plenty of questions. Stay tuned.
(Jennie Ivey is a Cookeville writer. Website: jennieivey.com; e-mail: [email protected])