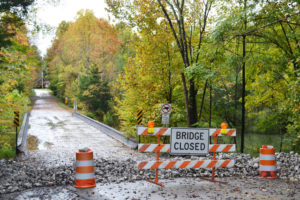 I didn't get what I really wanted for Christmas this year. I'm certain I won't get it on next week's birthday, either.
But I did get something worth celebrating. It's a gift I share with everyone who lives in Eastlake Estates subdivision: a safe bridge spanning City Lake. Until the state closed the old bridge back in the fall, I wasn't even aware it was dangerous. The bridge was built in the 1970s. As years went by and its strength was called into question, weight limits were imposed. Heavy trucks weren't allowed to cross it. Neither were school buses.
Last September, word spread that the bridge was closing for repairs. State inspectors had declared its condition "critical," with a safety rating of 15.8 out a possible 100. Yikes. Reinforced steel parts were to be fabricated elsewhere and then delivered and installed. Orange-and-white striped barriers were put into place, along with signs instructing drivers to detour to Watson Road. Most folks complied. A few, however, simply drove around the roadblocks. Giant piles of rock soon put an end to that and Watson Road became the only way in and out of the neighborhood.
I discovered Watson Road not long after moving to Eastlake Estates six years ago. It's a lovely place if you like wildlife and wildflowers and tall trees and craggy rocks and cattle grazing peacefully beside a picturesque pond. It was near a barn on Watson Road that I found the stray kitten I named Watson, who now protects me from all manner of rodents and reptiles.
Though Watson Road is a lovely place to walk, driving it is a whole different story. It's too narrow to officially be considered a two-lane road. It's hilly, with steep drop-offs. It's curvy. There are no shoulders. The only guardrails are at the very end, near Highway 70. And one other thing. Sometimes, during periods of heavy rain, the Falling Water River rises and covers the road at its lowest spot, rendering it impassable.
Not exactly an ideal route for hundreds of vehicles to get in and out of Eastlake Estates every day.
September passed and our bridge remained closed. Ditto October. Then most of November. Some of us shrugged and adapted. Others grumbled and complained. Nervous drivers traversed Watson Road with white knuckles and refused to attempt it in bad weather or after dark. A few stayed home entirely. Sometime around Thanksgiving, we received the welcome news from Putnam County Road Supervisor Randy Jones that repairs had been completed. The bridge would re-open as soon as state inspectors gave the go-ahead.
We waited some more. Every day, I snapped Kamala's leash onto her collar and headed to Bridgeway Drive, hoping to see the roadblocks gone. I was always disappointed. But on the morning of December 8, before I'd had time to take a walk, a neighbor texted me. "The bridge is OPEN!!!" he wrote.
Christmas had come early.
It took a while for the happy news to get around. For a few days, some drivers still used Watson Road. I fell into those old habits a couple of times myself, breezing past the turn at Mike's Market. But things are finally back to normal. Watson Road is peaceful and quiet again and I'm grateful. There's one particularly treacherous spot where the road dips and then rises sharply. In a clearing near the river sits a small house. Early in the morning, the people who live in that house fry bacon. On foot, you can smell it all the way to the road. I've missed that more than anything.
Gifts don't always come wrapped in pretty paper and tied with a bow. A new bridge over City Lake proves that. The other hoped-for present I didn't get is the subject for another column.
(December 26, 2020)