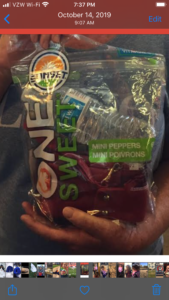 Twerking got in the way of the column I'd intended to write about this year's Super Bowl, but I suppose it's not too late even now to write about clear tote bags.
The first time I ever attended a sporting event where clear bags were the only kind allowed was when Tennessee Tech played U.T. in Neyland Stadium back in 2016. I didn't learn until the last minute that traditional bags and backpacks wouldn't be allowed in the stadium because of security concerns. I didn't own any kind of clear vinyl bag, but I did have some gallon zip-locks. That would have to do.
Everything worked out okay, except that a zip-lock bag doesn't have handles or straps so I had to carry it pinched between my fingers or tucked under my arm which is kind of a pain. Our Golden Eagles were crushed 55-0 by the Volunteers, but it was a fun day nonetheless.
Fast forward three years. I was in Denver visiting daughter Meg and her family in October. Son-in-law Andrew came home from work with a big grin on his face. "You're not going to believe this!" he said. "We had a drawing today for free tickets to Sunday's Broncos game and guess who won?" The answer, of course, was Andrew. And there was more good news. The Broncos' opponent was none other than the Tennessee Titans.
Only a couple of things dampened my enthusiasm. The first was that Peyton Manning wasn't quarterbacking the Broncos any more. The second was that I didn't have a Titans t-shirt to wear to the game. And I didn't have something else I needed. A clear tote bag. Meg had narry a zip-lock in her pantry. What was I going to do?
"Why do you even need a bag?" Andrew asked. "I'm not taking one."
I pointed out that everything he needed, including the tickets, was either on his phone or on the top of his head, where his ball cap and sunglasses were perched.
"That plan won't work for me," I told him. "I need my wallet in case I want to buy something. A nine dollar-hotdog, for instance. Hand sanitizer to use before I touch the nine dollar-hotdog. My phone. Reading glasses in case I need to see something on the phone. A bottle of water from home so I don't have to pay for one at the stadium. Chapstick. (Colorado will suck the moisture right out of you.) A notebook and pen because they're the tools of my trade. And a handful of atomic fireballs just because."
He shrugged. "Better look around and see if you can find a bag."
Meanwhile, Meg was putting lunch together for the kids. One of Josephine's favorite side dishes is orange and yellow and red mini-peppers. When Meg pulled the plastic bag they were packaged in out of the fridge, I pounced. I'd found the perfect clear tote bag, complete with a zip-top and handle, and it didn't cost me a cent.
I was pretty much the only one in Mile High Stadium cheering for the Titans that day. They got shut out 16-0. But I had a great time anyway and was thrilled to see famed Bronco mascot "Thunder" lead his team onto the field and then gallop the length of it every time they scored. And our Tennessee Titans actually got the last laugh because even though they didn't make it all the way to the Super Bowl, they got closer than the Broncos did.
As for my mini-pepper tote bag, it was perfect for the job. It's tucked safely away in my suitcase now, just in case I ever get invited to another big ball game.
(February 16, 2020)