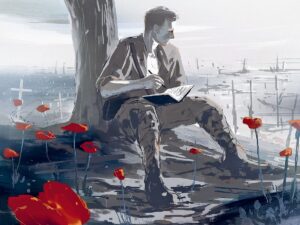 In the spring of 1915, during the Second Battle of Ypres, Belgium in what was then called "The Great War," the German army launched one of the first chemical attacks ever employed in history, using chlorine gas against Allied Forces.
As the battle raged, John McCrae, brigade surgeon of the Canadian Field Artillery, wrote these words in a letter: "I saw the tragedy of war enacted. A wagon, or a bunch of horses or a stray man would get there just in time for a shell. One could see the absolute knockout; or worse yet, at night one could hear the tragedy, a horse's scream or a man's moan."
McCrae's friend and fellow soldier Lieutenant Alexis Helmer was killed on May 2 when a German artillery shell exploded near him. After helping bury what body parts could be found in a makeshift grave marked with a simple wooden cross, McCrae presided over the funeral. Then he decided to honor Helmer and others who had died by writing a poem.
Poetry wasn't a new endeavor for McCrae. He'd begun writing poems as a teenager and had taught English before beginning his medical education. While studying to become a physician, he continued to write and eventually published sixteen poems and a number of short stories in various magazines. Legend has it that McCrae was dissatisfied with his battlefield poem, entitled "In Flanders Fields," and threw it away. Fellow soldiers retrieved it from the trash. It was published anonymously in "Punch" magazine in December, 1915 and quickly became one of the most frequently quoted poems about World War I. It was often used to recruit soldiers and to sell war bonds.
More than a hundred years later, "In Flanders Fields" continues to be among the most famous poems of its era and one of Canada's best known literary works, re-published throughout the world in numerous languages. Here's how it goes:
In Flanders fields the poppies blow
Between the crosses, row on row,
That mark our place; and in the sky
The larks, still bravely singing, fly
Scarce heard amid the guns below.
We are the Dead. Short days ago
We lived, felt dawn, saw sunset glow,
Loved and were loved, and now we lie,
In Flanders fields.
Take up our quarrel with the foe:
To you from failing hands we throw
The torch: be yours to hold it high.
If you break faith with us who die
We shall not sleep, though poppies grow
In Flanders fields.
The poem is often read aloud in remembrance of the ultimate sacrifice made by members of the armed forces not only in World War I, but in all wars. It is, appropriately, a staple of Memorial Day observances in the United States. The part of the story we don't often hear is that Alexis Helmer's grave, along with the graves of tens of thousands of others soldiers buried on the battlefields of Ypres, was lost.
That in itself is reason enough to pause and remember, this coming Monday and always.
(May 28, 2022)