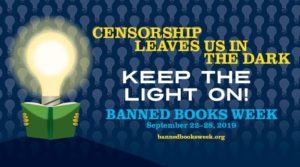 As it does this time every year, Banned Books Week has rolled around again. The annual event sponsored by the American Library Association celebrates the freedom to read. The theme for 2019 is "Censorship Leaves Us All in the Dark."
This year's "top eleven list" of most-frequently-challenged books–books that someone formally requested be removed from school or library shelves–includes some titles that appear year after year and a few new selections. Five of the books are ones I hadn't read, so I dove right in and tackled all of them before writing this column.
One book–"This Day in June" by Gayle E. Pitman, Illustrated by Kristyna Litten—took only ten minutes. It's a picture book filled with vibrant illustrations of a gay pride parade, complete with women riding motorcycles, men in leather jackets, and ladies with "fancy dresses and flowing tresses" (and also some obvious facial hair) sashaying down the street. Onlookers smile and wave rainbow flags and hold posters that say things like BORN THIS WAY, JUSTICE FOR ALL and I LOVE MY GAY SON. At the end of the book is a four-page "Note to Parents and Caregivers" section filled with ideas for how parents might talk with children about sexual orientation.
Another quick read was the young adult graphic novel "This One Summer" by Jillian and Mariko Tamari. It was quick because I find graphic novels (called comic books in my day) so tedious and hard to follow that I typically abandon them pretty quickly. In the few minutes I spent with this book, I figured out it was about a young teenage girl who's spending the summer with her parents and her best friend at the beach cottage they've rented for years. This year, the parents argue a lot, the mother is depressed and withdrawn and the main character has developed a crush on a guy who works at the convenience store. Those who object to the book cite its LGBT characters, drug use, profanity and sexually mature themes.
A man in Iowa who formally challenged the novel "Two Boys Kissing" by David Levithan actually burned the book live on Facebook. The story centers around two 17-year-old boys who attempt to break the Guiness World Record (more than 32 hours!) for the longest kiss. Narrated by a Greek chorus of men who died of AIDS, the novel also contains subplots that deal with coming out, gay internet hook-up sites and gender identity.
The only book on my list that wasn't challenged for profanity or sex is the children's book "Skippyjon Jones" by Judy Schachner.  Skippyjon is a Siamese cat who fantasizes about being a Chihuahua superhero. His alter-ego speaks "mock Spanish," using trite word choices and an embellished accent ("ees" for "is" and "beeg" for "big," for example). Those who object to the book believe it reinforces archaic and negative images of Mexicans.
Last but not least is the book that landed the Number Two spot on the list: "A Day in the Life of Marlon Bundo" by Jill Swiss, who is a member of the writing team for comedian John Oliver. This picture book is a parody of the children's book "Marlon Bundo: A Day in the Life of the Vice President," written by Charlotte Pence, who is Mike Pence's daughter. In the spoof, the Pences' pet bunny, Marlon Bundo, is gay. He falls in love with another male bunny named Wesley and they get married, despite the objections of the Vice President. Those who challenged the inclusion of Swiss's book on school and library shelves disliked its political and religious viewpoints.
These five banned books, and many others, are available through the Putnam County Library. You're free to read or ignore them, as you choose. That's what Banned Books Week is all about.
(September 29, 2019)