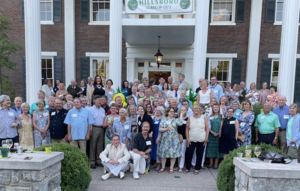 I used to think that people who live long enough to attend their 50th high school reunion are old. Really, really old. Now I know better. Last Saturday, I travelled to Nashville's Hillsboro High School, my alma mater. Members of the Class of 1972 were gathering to tour the school and then enjoy a picnic lunch in the courtyard.
Wowie zowie. Was I in for a shock! Not at how my classmates had aged, because we looked pretty darn good. The shock was what had happened to our dear old school.
I grew up in Nashville. Back in the olden days, I knew the Green Hills area like the back of my hand. When, on the morning of the reunion, I exited the 440-loop at Hillsboro Pike and headed south, things didn't look all that different at first. But when I got to the crazy busy shopping-and-dining district and looked to my left, I couldn't at first comprehend that the sprawling modern building I saw was actually my school. I'd planned to try nabbing one of the faculty parking spots near the giant clock at the front entrance, but that wasn't to be.
Instead, I wound my way beside the new part of the school until I found the parking garage. You read that right. Good old Hillsboro High School has a parking garage. And a sound studio. A coffee shop. A student-run credit union. A state-of-the-art library. A rooftop athletic field. The lovely young woman who led our tour proudly pointed out all these things to my classmates and me.  We were duly impressed. But none of those things were what we really wanted to see. We wanted to see our cafeteria, where the menu almost always included a square of chokingly dry yellow cake with a smear of chocolate icing. We wanted to see the gym with our beloved Burro mascot painted on the wall. We wanted to see the boys' bathroom where, in simpler times, an "unknown" prankster flushed a firecracker and flooded the stairwell.
"Is anything left of our old school?" someone asked.
Our guide took us to the gym, where the Burro has been painted over. I could have wept. She took us to the auditorium where—every year for four years—we watched the same SAY NO TO DRUGS AND VENERAL DISEASE movie. She took us to the old academic halls, where, despite new flooring and new paint and new doors, we recognized our classrooms. Sadly, the row of lockers outside my U.S. History classroom was gone. I'd planned to try to unlock mine because I still remember the easy-peasy combination: 24-14-4. Finally, our guide took us to the old front entrance. The faculty parking lot has been replaced by a fancy Metro Transit Authority bus stop, but the giant clock, thank goodness, remains.
The big event– a shindig at the Brentwood Country Club—happened that evening. It was every bit as magical as I'd hoped it would be. Though many classmates still live in the Nashville area, others travelled great distances to be there. New York. Utah. California. Even Athens, Greece.
Beneath an almost-full moon, the Class of '72 laughed and hugged and took pictures and ate and drank and talked and talked and talked. There were tears, too. The poster of our classmates who have departed this world had way too many names and faces on it. Several of our classmates have gone missing in action. Others chose, for whatever reason, not to attend the reunion. I wish they had. Because they might have discovered that though our steps are slower, our hair grayer and our waistlines thicker, we're not old people. Not yet.
So here's to the Class of '72, from Hillsboro and every other high school the world over celebrating a 50th reunion this year. May we stay forever young.
(June 18, 2022)