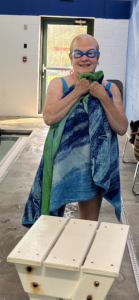 What's the best way to celebrate turning seventy-seven? For some folks, it's cards and a cake and a party with lots of presents. But my friend Julie Burns didn't much care about any of those things as her November 2 birthday approached.
All Julie really wanted was to swim a mile in a single afternoon in the Putnam County YMCA pool. She got the idea while watching the Olympics last summer. "I enjoyed all the swimming events, but the mile swims intrigued me the most," she said. "They set me to wondering if maybe I could train hard enough to do that."
Julie learned to swim in a creek when she was just a little girl. Her childhood was filled with ample opportunities to have fun in the water and improve her skills. But it was not until she enrolled in a P.E. swimming class at Tennessee Tech when she was a student there in the 1960s that Julie actually learned proper strokes. Those college laps were the last she would swim for more than 50 years.
It's not that she didn't enjoy the water in the interim. She swam in lakes and rivers and oceans. She water skied. She canoed and kayaked. She snorkeled, which she calls "her absolute favorite activity in the whole world," whenever she got the chance.
She was also committed to other forms of physical activity, including step classes, aerobic dance and kickboxing. She snow skied and climbed tall mountains. She and husband Leon, whom she describes as "an incredibly fit older man," continue to enjoy hiking vacations in Europe, South America and the United States. And they live in a three-level house, which requires plenty of step climbing just to get daily chores done.
Everything was peachy until a couple of years ago, when—for no apparent reason—Julie developed back problems. Painful back problems. Problems that, because she didn't wish to spend her remaining years on the couch, necessitated  TLIF surgery, which involves removing a disc and screwing a metal piece into its place. Julie's recovery was steady but slow.
Then Covid-19 sent the world into a tailspin.
Because of her age, Julie was able to get vaccinated early in 2021. The YMCA pool soon began calling her name. "I wasn't ready for any kind of weight-lifting or fitness class," Julie told me. "Swimming seemed the perfect answer for my need to be gently active while staying Covid safe."  Masks were required inside the building. A pool divided into lap lanes made it easy to socially distance. An abundance of chlorine was also a plus.
So Julie began swimming laps in the Y's 25-meter pool. She started with 200 meters and slowly and steadily began working her way up, adding a lap or two every time she swam. "I reserved a lane twice a week for an hour each time," she told me. "After a while, I got to the point where I spent almost the entire hour swimming." Eventually, she made it to 1,000 meters, a distance equivalent to sixth-tenths of a mile.
She felt confident that, given enough time, she could complete a "swimmers mile," which is 1,500 meters. That would mean thirty full (to the opposite wall and back) laps at the Y. So she reserved a lane for two hours on November 1, the day before her birthday. Julie's son Andy joined Leon and me to cheer her on. She swam 1,000 meters and then rested for a bit. Then it was back into the water for another 500. Except that's not what happened. Rather than an "international (swimmers) mile," Julie decided to swim a real mile—1,600 meters. That's two additional laps. Did she make it? Of course she did!
There's no telling how far she'll go when she turns seventy-eight.
(November 6, 2021)