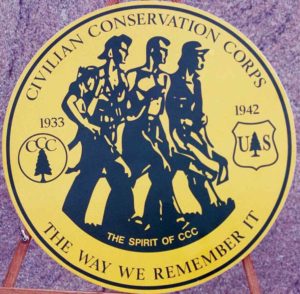 This started out to be a column about yet another cool swinging bridge in Tennessee. Then it turned into a column about the breathtaking Twin Arches at the Big South Fork. But I also wanted to write about the International Dark-Sky Association and about the Civilian Conservation Corps.
Why all that stuff in just one column?  Because I welcomed 2020 at Pickett State CCC Memorial State Park, located just 13 miles north of Jamestown in beautiful Pickett County.
It was my first visit ever, and I was blown away not only by beauty of the park but also by its history. Land for the park was donated to the state of Tennessee in 1933 by the Stearns Coal & Lumber Company. In the early 1930s, in the depths of the Great Depression, President Franklin D. Roosevelt established the Civilian Conservation Corps as part of the New Deal. Approximately 70,000 young men—known as "CCC boys"—from Tennessee served in the CCC throughout the country, including in their home state. They constructed roads, bridges and dams. They planted millions of trees. They did extensive work in the Great Smoky Mountains National Park. And they built 17 Tennessee state parks.
Much of what they built still stands at Pickett, including hiking trails, primitive cabins, a recreation lodge, a ranger station and a 12-acre lake. Also of note is the CCC museum, which once served as the park office. One of the most beautiful hiking trails in Pickett's 19,000 acres is the easy 0.4-mile (each way) out-and-back Indian Rockhouse Trail, which leads to a gorgeous rock formation and a tall but gentle waterfall that would be fun to stand beneath in warm weather.
Adjoining Pickett State Park is the spectacular 120,000-acre Big South Fork, which offers countless hiking and horseback trails. My friends and I chose the Twin Arches Trail that begins at the parking area on Divide Road where two porta-potties (yay!) are situated. The 0.7 mile (one way) trail leads to one of the most breathtaking geologic sites anywhere: two gigantic sandstone arches. The north arch is massive—62 feet high and 93 feet wide, but the south is even more impressive at 103 feet high and 135 feet wide. Because the day was crisp and sunny, we elected to hike another mile and a half down into the valley to enjoy a picnic lunch at the famed Charit Creek Lodge.
As to whether we were weary after the long, steep trek, yes. But not too weary to hop in the car and drive to a perfect spot to view the Milky Way. We'd met a guy named Dan in the park office that morning. "I travel all over the United States chasing the stars," he told us. "Meet me tonight at 9:00 at the Pogue Viewing area. I have an automatic tracking telescope." Pickett was designated a "dark sky park" in 2015 by the International Dark-Sky Association. It's perfect for stargazing because it's free of artificial light. But by the time we arrived at Pogue, heavy clouds had rolled in. Neither the Milky Way nor Dan was anywhere to be seen.
My friends and I ushered in 2020 with no fireworks. No champagne. No ball drop in Times Square. No noisemakers or party hats or sparkly clothes. In fact, my body was too tired and my eyelids too heavy to stay awake until midnight on New Year's Eve. But I awoke refreshed on January 1. I visited the CCC museum and then took a delightful walk across the swinging bridge that spans Arch Lake, where I spotted not a single love lock. Thank goodness.
It was one of the best New Year's celebrations ever.  I guess parties are different once you turn 65. Which is not necessarily a bad thing.
(January 12, 2020)