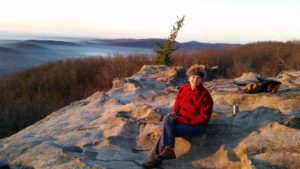 What a difference six months makes.
On June 21, some friends and I celebrated the longest day of the year by hiking to the huge flat rock on top of Black Mountain to watch the sun come up. By lucky coincidence it was also the date of the full moon, which we watched slide out of sight in the west just as the sun rose in the east. It was a glorious 15-hour day, and I wrote about it in my column.
Now it was December 21 and time to acknowledge the solstice again. The number of friends enthusiastic about setting out in pre-dawn darkness in sub-freezing temperatures had shrunk to two, but that didn't deter us from this grand adventure. Before 5:30, Friend and I were on I-40 heading to the Crab Orchard exit in Cumberland County. First light arrived with us at the Black Mountain parking lot. Snow dusted the woods and trail. Coffee thermos in hand, we hoofed it across the footbridge leading to the lookout rock and settled in amongst frozen puddles just a couple of minutes before the 6:43 sunrise.
The half-moon hung high in the sky. Below us, Grassy Cove was white with frost. Fog over the valley made it hard to tell where the mountains ended and the sky began. Right on schedule, the sun—far weaker than it was back in June but every bit as breathtaking–popped up over the horizon.
As we sat and watched it climb, I smiled at the notion that—despite the fact that winter had now officially begun—we were heading out of the days-growing-shorter tunnel. Though spring wasn't exactly around the corner, we were heading in the right direction. But I couldn't sit on that cold, hard rock and ponder such thoughts for long. I hadn't had the good sense to wear long johns under my jeans or to put on mittens instead of gloves or to stick toasty toes onto my socks before lacing up my hiking boots. It was time to head to the car and turn on the heater.
So back through the forest Friend and I travelled, awestruck at the starkness of bare tree limbs against brilliant blue sky. We marveled at the hundreds of fragile frost flowers that dotted the trail. We noticed pine trees and mountain laurel and delicate club moss, the only pops of green in the black-and-white winter woods. We spotted squirrels' nests and deer tracks. We stopped at the old stone chimney and vowed to hang a Christmas wreath on it next December as a gift to other hikers who choose to travel this path.
In just nine hours, we would watch the sun set on this shortest day of the year. And be grateful, once again, to be witness to the wonder of it all.
To read about the summer solstice Click Here
(January 1, 2017)