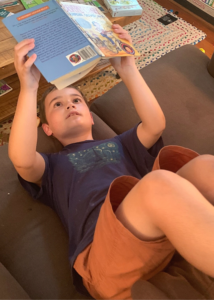 Today brings to a close the American Library Association's official observance of Banned Books Week, but I'm just getting wound up. The right to read in the United States is under attack. Conservative-dominated state legislatures, including—I'm sad but not surprised to say— the one right here in Tennessee, are leading the charge in unrelenting efforts to control and censor what children read.
This year, our General Assembly passed a law entitled the "Age Appropriate Materials Act," part of which requires every public school in Tennessee to maintain and post on the school's website a list of materials in the school's library collection. This edict is widely interpreted to include not only materials in the actual school library but in individual classrooms as well. Teachers who have books in their classroom that aren't officially part of the curriculum must make available a complete list of those books not only to the local school board, school administration and parents of students in the class, but also to anyone with access to the school's website.
Why is that such a big deal? For starters, most teachers have shelves filled to overflowing with books that students are free to borrow and take home or to read during quiet time at school. Many of these books were, no doubt, purchased with money out of teachers' own pockets and lovingly chosen as just right for their students. The hours it would take to catalog and post the titles of hundreds of books boggles the mind. It's time that teachers, already overwhelmed with all they must do, simply don't have.
But that's not the real issue. What's really at work here is the eagerness on the part of too many uninformed (and often poorly-read) lawmakers and members of the public to find something "offensive"—no matter how absurd—in books and then deny students the right to read them in school. I was shocked to learn that one of my favorite children's books, "Charlotte's Web," appears on some challenged-books lists because many of its beloved characters are talking animals, which–according to some critics–are the work of the devil.
The "Magic Tree House" series, which has been around for decades and which helped my nine-year-old grandson fall in love with both reading and history, has been challenged by some adults because the books "encourage dishonesty." (The main characters sneak out of their house to time travel and don't tell their parents where they're going.) Equally outrageous is the appearance in 2010 on the banned books list in Texas of the board book "Brown Bear, Brown Bear, What Do You See?" Its author, Bill Martin, Jr., has the same name as an obscure Marxist theorist. No one bothered to see if they were the same person.
Who can blame teachers for simply throwing up their hands and removing all non-curriculum books from their classrooms?
Thankfully, there's still a light shining in the darkness here in Putnam County. Sarah Crawford, who's worked as a Children's Library Assistant at the Putnam County Library for seventeen years, has started a monthly after-school Banned Books book club for kids in fourth, fifth and sixth grades. At their September meeting, each club member received a copy of the middle-grade novel "Ban This Book" by Alan Gratz. They'll talk about it in October. It's the story of a fourth grader who takes it upon herself to fight the arbitrary removal of "books children shouldn't read" from her school library.  The takeaway? Parents have the right to decide what books their own children can or can't read. But they don't have the right to make that decision for everyone else.
As "controversial" books continue to be challenged and removed from our schools for ridiculous reasons, here's hoping that school boards across the nation will put policies in place that defend students' right to read. Our freedom depends on it.
(September 24, 2022)