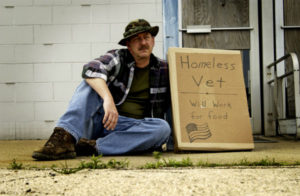 Sometimes a column cries out to be written a couple of months early. Veterans Day falls on a Sunday this year, so I've recently been on the hunt for a suitable story to share on November 11. Out of the blue, this one fell right into my lap.
Overton County's Hippie Jack, whom I've featured before in this column, contacted me about an event happening at his farm on Saturday, September 29. It's a non-ticketed concert intended to benefit veterans in Tennessee by collecting men's and women's winter items such as coats, backpacks (brown or black), hats, gloves, shoes and socks. Also on the wish list are 25 and 50-dollar gift cards to Kroger and Wal-Mart.
"The number of homeless veterans across America increased in 2017 for the first time in seven years," Hippie told me. "And suicide rates among veterans are frighteningly high. I sat on the porch of a country store not long ago talking with a veteran who was tossing back one warm beer after another. The guy's a total mess. He told me about killing people while he was he was on duty in the Middle East. He talked about watching his buddies get blown to bits by enemy forces. What finally broke him was having to shoot a dog who'd lost a leg and had a hole put through his belly after stepping on an IED. That's when he decided that drinking himself to death was the best plan he could come up with."
Operation Stand Down Tennessee (osdtn.org) is a non-profit organization that focuses on engaging, equipping and empowering veterans and their families by offering employment assistance, mental health counseling, networking, housing and more. OSDTN is partnering with Hippie to collect and distribute items collected at the September 29 concert.
Featured performers are Bee Taylor, Cody Brooks, Malcolm Holcombe and Appalachian Hippie Poet Bill Alexander. "It's a top-notch lineup," Hippie said. The fun starts around 3:00 p.m. and the music cranks up at 5:00. Yard Birds food vendor will be on site or attendees are welcome to bring their own refreshments. Free camping is available Friday and Saturday nights.
If you'd like to contribute to the cause without attending the concert, there are a number of ways to help. Drop off items at Hippie's house (642 Shiloh Road, Crawford, TN) or at the offices of WCTE-TV (229 E. Broad Street, Cookeville) Monday through Friday from 9:00 until 3:00. Log onto jamminathippiejacks.com and click on the link to the amazon wish list. Mail a check made out to COARM (the non-profit Council of Americana Roots Music) to Hippie's address. To find out how your church or civic organization can get involved, contact him by phone at (931) 260-6723.
"This effort isn't about being left or right, Democrat or Republican," Hippie told me. "It's time for Americans to come together to show what true patriotism really is by taking care of our veterans."
(September 2, 2018)