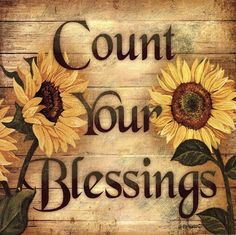 I've rarely had a hard time counting my blessings. In the almost 62 years I've been on this earth, they have always been more abundant than I deserve.
But 2016 has been a uniquely difficult year for lots of reasons. I had some medical issues that, though they turned out to be no big deal, were frightening at the time. My 35-year marriage ended in divorce. I was a victim of identity fraud. And then there was the November 8 election, which didn't go my way, and the disappointment that still threatens to overwhelm me at times. Add drought and wildfires to the mix and it's easy to paint this year black. But I won't. Because I'm grateful that
My kids and grandkids are all happy and healthy. And the two oldest grands are completely potty-trained.
Despite the rancor and divisiveness of the recent campaign for President, most of the people I know continue to treat each other with dignity and respect.
I get to take yoga from Nicole at Synergy Studio every Wednesday morning.
I've celebrated this year's "super moons" in a number of unforgettable ways.
The Chicago Cubs finally won the World Series. Though I'm a Braves fan to my core, who wouldn't be thrilled about ending a losing streak as long as the Cubbies'?
I've read several good novels and three outstanding ones: "Still Life with Bread Crumbs" by Anna Quindlen, "The Invention of Wings" by Sue Monk Kidd and "Our Souls at Night" by Kent Haruf.
Whenever the news makes me wring my hands in despair, I can always switch over to Netflix and watch reruns of Andy Griffith.
I'm grateful for Kentucky writer Wendell Berry, whom I was lucky enough to see in person at Centre College just a couple of weeks ago. His poem "The Peace of Wild Things" never fails to comfort me. A portion of it goes like this:
When despair for the world grows in me
and I wake in the night at the least sound
in fear of what my life and my children's life may be…
I come into the peace of wild things
who do not tax their lives with forethought of grief
Here's hoping that you, too, are able to count your many blessings during this season of Thanksgiving and in the year ahead.
(November 27, 2016)