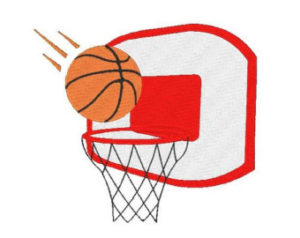 When I was in eighth grade, my family moved into in a new house in a new town. Not long afterwards, my dad hung a basketball goal on the brick wall above the garage door. Sometimes I played ball with him. Sometimes I played ball with my brother. But I was perfectly happy playing basketball all by myself.  I dribbled. I shot free throws. I perfected my lay-up. I learned to predict the trajectory of the rebound and race for the ball before it rolled off the pavement and into the woods.
My mother, who cared nothing about sports, didn't get it. "I'll never understand," she'd say with a dramatic sigh, "why you'd rather be out on that driveway playing basketball instead of in the kitchen learning to fry chicken."
To which I replied, respectfully, of course, "I'll never understand why you'd rather be in the kitchen frying chicken than out on the driveway playing basketball."
A truce was declared. A truce that lasted until Mother died of cancer on March 24, 2005. Memories from that awful time are raw whenever the anniversary of her death rolls around, but especially this year. Covid-19 has changed our world in ways most of us could never have imagined. No hugs. No handshakes. No haircuts. No going out to dinner. No concerts. No church. No school. No going to work if you can do otherwise.
And no March Madness.
There were hints early on that the end of the 2020 college basketball season could be different than it had ever been before. Tournaments might be played without spectators. What a horrifying notion! A basketball game with no fans in the stands would be worse than watching a game on TV with the sound turned off, something I never do unless Dick Vitale is announcing a game.
I was bummed that Tennessee would be playing in the SEC tournament (in a stadium without fans) while I was on a plane enroute to Denver. The minute we touched down, I turned on my phone to check the score. ALL GAMES CANCELLED, the SEC website said. Meaning what? Would Kentucky be declared tournament champ and plugged into a spot in the NCAA bracket? Would that tournament, too, be played without spectators?
It wasn't long before every fan in the country learned that basketball season, college and pro, was over for good. Coronavirus wasn't something to mess around with. Though I knew it was a wise decision, it still hurt. Bad. I've loved college basketball for a long, long time. Growing up in Nashville, I watched the Vanderbilt Commodores play many a game in funky Memorial Gymnasium. I became obsessed with the NCAA tournament more years ago than I can count.
Fifteen years ago, as my mother lay dying in a hospice bed in the house where I grew up, watching the tournament brought me solace. It passed the time. It filled the silence. It gave me a little something to cheer about.
The 2020 NCAA men's basketball championship game was supposed to be played tomorrow night. I wish I could watch it. I wish I could throw a party where lots of friends could watch together. And I wish that on Tuesday I could go shopping and buy a basketball goal and find someone willing to hang on the wall above my garage door. I would pump up my orange-and-white ball. Then I would dribble and shoot free throws and practice my lay-ups. I would predict the trajectory of the rebound and race for the ball before it rolled off the driveway and into the woods.
And listen for my mother, who would be 90 years old were she still alive, call me in to a supper of hot-out-of-the-skillet fried chicken.
(April 5, 2020)