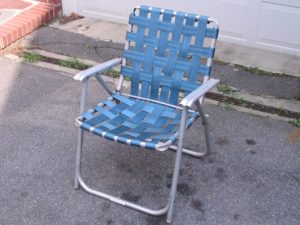 In last week's column, I wrote about sweeping my driveway to remove the mess that falls upon it every spring. Before the days of coronavirus, I swept mainly because I didn't want to track maple helicopters and fuzzy pollen worms and the remains of last fall's leaves into the house. But now that I'm sheltering at home in hopes of avoiding Covid-19, I sweep for an even more important reason.
My driveway is where the action is.
I'm within hollering distance of several of my neighbors. Whenever we spot each other outside, we wave and shout hello. My postman comes up the driveway more often than he used to because I shop for essentials online whenever I can. I've bought a dandy woodpecker feeder. A twelve-pack of Lawry's fajita seasoning. Several books. Blaze orange marker flags for my freshly planted flower beds so the man who cuts my yard won't accidentally mow over anything he shouldn't. Notebooks and pencils and ink pens because those are essentials for sure.
Late last month, my driveway was the scene of a much needed haircut, performed just in the nick of time by my long-time hairdresser. She'd received special permission to perform her services door-to-door. Before she got here, I shampooed my tresses, which had grown horrifyingly out of control in the eleven weeks since they'd been near a pair of scissors.
I moved a barstool from the kitchen to the driveway. Soon, Hairdresser arrived with a freshly laundered cape and towels, comb, scissors and a squirt bottle filled with Barbicide. I wanted to hug her but, of course, I didn't. I just tightened my mask over my nose and mouth while she did the same with hers. Then she went to work.
The results were spectacular.
Even more fun is a new tradition a handful of friends and I have recently started. We call it driveway happy hour and it's the easiest way to entertain I could have ever imagined. All of us live in the same neighborhood, within easy walking distance of each other except that there's too much to carry to travel any way except by car. We meet once a week, taking turns hosting.
Everyone brings their own chair. Their own snacks. Their own beverage and drinking glass and ice, if ice is required. We sit in a big circle, far enough away from each other to be safe but close enough to hear. We talk about how weird and scary this pandemic is. But we also talk about the positives, of which there are many. We speculate about the future but agree that the only good way to maintain sanity is to take one day at a time.
Last weekend, we had a birthday party. The chocolate cupcakes came from Food Lion, neatly packed in a plastic container with individual cavities for each cupcake. Each party-goer removed his or her own cupcake, being extraordinarily careful not to touch any of the others. Because singing is reportedly one of the best ways to spread the virus through the air, we clapped our hands over our mouths before joining in a subdued rendition of "Happy Birthday." It sounded more like a funeral dirge than a song of celebration. The birthday boy turned his back to the revelers before gently blowing out his one candle. Everybody clapped.
Strange, I know. But here's the best thing about a driveway party. The host doesn't have to straighten up the house. Or clean the bathroom. Or plan a menu. Or cook. Or wash dishes. The only thing he or she has to do is sweep (or, heaven forbid, blow) the driveway. And even if that doesn't get done, the party is still just as fun.
It's the new normal. I'm doing my best to embrace it.
(May 24, 2020)