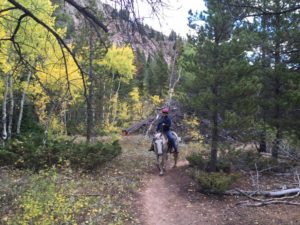 You don't have to check the calendar to know the days are growing shorter. Now that we've passed the autumnal equinox, it's official. For the next six months in the northern hemisphere, the nights will be longer than the days.
Such a realization made me melancholy even when I was young. Now that my age begins with the number six, I feel an increased urgency to start crossing things off my bucket list. I haven't yet sailed to Alaska on a small ship or been to a World Series game or visited Cuba. I haven't seen Mt. Rushmore or Death Valley or New England while the leaves are changing color. Heck, I've never even been to a football game at Neyland Stadium, though I'm heading there November 5 to watch UT play Tennessee Tech.
But a couple of weeks ago, I managed to cross two things off my bucket list at once.
I'd booked a mid-September flight to Denver to visit granddaughter Josephine. A few days before I was to arrive, daughter Meg called. "How would you like to go horseback riding in Rocky Mountain National Park while you're here?" she asked. (Wow. An item at the top of my list.) "Through the quaking aspens?"  she added. (Wow again. Aspens in autumn were on the list, too.)
"Sign me up," I told her.
And so the two of us set out before sunrise on a gorgeous fall morning for the two hour drive to Estes Park, Colorado. As we entered the still-sleeping town, we were greeted by dozens of elk grazing at a public playground. We arrived at the stables at YMCA of the Rockies excited about meeting our wrangler and being matched up with just the right horses. We assured the young woman behind the reception desk that we were experienced riders. "I'd like a spirited buckskin gelding no taller than 15 hands," I told her. "And a Sam Elliot-type wrangler, if you have one." (Yet another wish on my bucket list.)
"Sorry, we don't have any wranglers like that," she said, smiling. "Though we do get the occasional request." She didn't add "from women of a certain age," though I'm pretty sure she was thinking it.
Meg was assigned a sorrel horse named Boomerang. I got a flea-bitten gray (yes, that's a real color) inappropriately named Tornado. They should have called him Lollygagger. Our guide was a friendly young woman named Alexis, who had recently moved to Colorado from Florida because she wanted a change of scenery. We were the only two riders in her group. "Are you OK with trotting?" she asked as she handed us our reins. We nodded and settled into our saddles.
For the next three hours, we rode through some of the most spectacular scenery in the world. Vast meadows covered with sagebrush. Forests filled with Ponderosa pine. Steep, rocky trails that followed rushing Mill Creek. And—best of all—countless aspen groves.
Here's the cool thing about aspen trees. They're the largest living organisms on earth and grow in stands called "clones."  They reproduce by sending up sprouts from their root system. In Utah, there's a clone with 47,000 stems and, in Minnesota, a clone estimated to be 8,000 years old. We didn't see anything quite that impressive in Colorado, but what we saw was awesome enough. Green-leafed aspens at lower elevations, yellow-leafed ones as we climbed higher. All of them quaking in the cool Rocky Mountain breeze as we trotted by.
Now there's an experience to cross off a bucket list. And then add back, in capital letters.
(September 25, 2016)