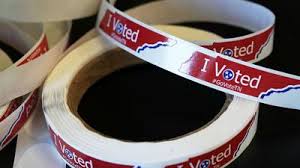 The short answer to the question posed in the headline is no. If you're a registered voter in Putnam County and go to the election office for early voting (July 15-30) or to your precinct on Election Day (August 4) without your card, you'll be allowed to vote provided you show a photo ID issued by the federal government or the state of Tennessee.
So why clutter your wallet with a voter registration card?
Lot of reasons, actually. The card contains a wealth of information in addition to your name, address, birthday and voter ID number. It tells the name of your precinct. It tells where that precinct is located. It shows the county district you live in as well as the city ward (if you're in one) and school board district. It shows which state House, state Senate and U.S. Congress district you live in. These things matter because your ballot is personalized for you. For example, if you live in county commission district one, the candidates for only that district will be the ones you see on your ballot. If you live in the town of Monterey, you won't be given a ballot for the Cookeville City Council. And so on and so on.
Your first stop when you vote is the registrar's station. If you're at the election office during early voting, you'll fill out an Application for Ballot and the registrar will find you in the computer database. This can be done by searching for your name and/or birthday. But you may share a name or birthday with other Putnam County voters, which can slow the process. If you have your voter registration card, you can quickly and easily be found with your voter ID number, which no one else shares.
The registrar will "code" your Application so that your machine operator knows which ballot to load. This can be tricky in elections like the one that starts this coming week, which is both a county general election and a state and federal primary, because lots of races are taking place. Ballots range in length from 11 to 14 pages.
At the precincts on Election Day, the registrars use poll pads that find voters in the database by using the bar code on the back of photo IDs. The poll pads automatically code each ballot.
The voter registration card you carry in your wallet should be the most recent one you've received. You may receive a new one in the mail for a variety of reasons. Perhaps you've moved to a different address. Perhaps your name has changed. Perhaps district lines have been redrawn and, though you haven't moved, you're now in a new district. Perhaps your old precinct has been eliminated. Or perhaps you're in the same precinct but the voting location is different. For example, Putnam County election officials are looking for a new location for the Poplar Grove precinct.
Your up-to-date voter registration card will tell you these things. An outdated one won't do you much good. If the old card has strong sentimental value, keep it in a scrapbook or a memory box or wherever else you want. But the card containing current information is the one you should consult and carry with you. You sure don't want to show up at the wrong place near closing time on Election Day.
There's one more thing you should know. District lines for the Tennessee House of Representative have been redrawn. In Putnam County you could be in district 42, where Ryan Williams is the incumbent, or District 25, where Cameron Sexton is. Four Putnam County precincts—Algood Inside, Algood Outside, Northeast and Poplar Grove—are in split districts. Your newest voter card will show which district you're in.
Need to know more? Call the Election Office at (931) 526-2566.
(July 9, 2022)