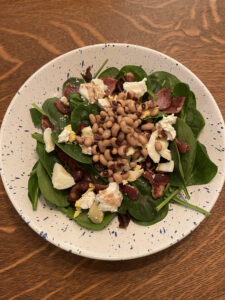 I've always assumed—wrongly, as it turns out–that folks from the south like black-eyed peas and those not from the south don't. Legend has it that when General William T. Sherman led his troops through Georgia on their destroy-it-all march to the sea in the autumn of 1864, Union soldiers left fields of black-eyed peas untouched because they deemed them unfit for human consumption. Thus the belief among southerners that black-eyed peas bring good luck.
Many years ago, friends from Indiana ordered peas for their eighteen-month-old daughter at the Rice Motor Inn restaurant here in Cookeville. They were flabbergasted when, instead of English peas, the waitress set a bowl of black-eyed peas down in front of the hungry child. She gobbled them up, which was the happy news. The unhappy news is that when her hunger was satisfied and her parents weren't paying attention, she shoved a pea so far up her nose that an emergency room doctor at Cookeville General Hospital had to dig it out.
I'm told she hasn't had a black-eyed pea since, even on New Year's Day.
As I joined in last week with Facebook friends wishing each other a Happy New Year, I was shocked to learn that some of my southern friends dreaded having to eat black-eyed peas. "I know we need all the good luck we can get in 2022," one friend wrote, "so I'm going to force myself to swallow one forkful. But I'm not going to like it!"
It's not peas but turnip greens, which practically guarantee money in the new year, that I dislike. My mother did, too, but she cooked them often because my daddy adored them. After stemming and chopping and washing them over and over and over again, Mother would put the greens in a big pot with a ham bone and cook them on top of the stove from sun-up to sun-down. A couple of weeks later, about the time the house quit stinking to high heaven, she was at it again.
Fast forward to a couple of years ago, when I was thrilled to learn that the "eat greens" rule for New Year's doesn't necessarily mean turnip greens or even collard or mustard greens. Thus began my new holiday tradition. I buy a bag of "washed and ready to enjoy" spinach and a can of Luck's black-eyed peas, certain that my mother and the generations ahead of her are, no doubt, spinning in their graves.
But here's where I do get old-timey. Though I don't go out back to the smokehouse to fetch bacon (I don't have a smokehouse), I cook it like it's meant to be cooked— fried crisp in the perfectly-blackened cast iron skillet that belonged to my grandmother. Obviously, frying bacon produces bacon grease, an ingredient vital to every true southern cook, including those who purchase bagged spinach. As far as I know, bacon grease can't be purchased on its own, so those who want and need it must fry their own bacon.
On New Year's Eve, I popped open a chilled single-serving bottle of cheap champagne and poured it into a flute. As I sipped, I fried an entire pound of bacon and used some of the grease to mix up a bowl of cornbread, which I poured into the still-hot-and-greasy skillet. While the bread baked, I warmed up the black-eyed peas. I filled a salad plate with spinach topped with chopped-up hard-boiled boiled eggs. Then I added two or three—OK, maybe four–pieces of bacon. On top of it all went a dollop of dressing and a big ole spoonful of peas.
And there was my perfect supper: pork, greens, cornbread and black-eyed peas, prepared in a kitchen that smelled not like pot likker, but bacon. Welcome, 2022!!! This just might turn out to be the best year ever.
(January 8, 2022)