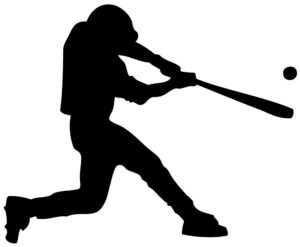 Cookeville's Pat Quillen fell in love with baseball almost seventy years ago. "Growing up in Columbia, Tennessee, I played Little League," he told me. "We won the state championship in 1952 and 1954 and were only one game away from making it to the Little League World Series in 1952."
When Pat was 13, his family moved to Cookeville after his dad, Malcolm "Mutt" Quillen, accepted the job as head baseball coach and assistant football coach at Tennessee Tech. At the time, Cookeville High School (known then as "Central") didn't have a baseball team, so Pat played on an independent team.
And he continued his hobby of collecting baseball cards.
"I started when I was eight or nine years old and kept on for about 30 years," he said. Pat owns several thousand baseball cards, some of them very rare. "If any of your readers might be wondering if those cards are stored in a secure location, the answer is yes," he told me with a laugh. "And I'm not going to even hint where that might be."
But baseball cards aren't the only memorabilia of America's pastime that Pat collects. He has lots of baseball art, including framed posters, prints and original paintings of baseball greats including Babe Ruth, Willie Mays, Ty Cobb, Shoeless Joe Jackson, and Roy Campanella. He has baseball jigsaw puzzles. Postage stamps. Books. Throw pillows. An American flag made out of miniature baseball bats.  A vodka bottle shaped like a baseball. And a whimsical clay statue of Ted Williams created by Cookeville artist Marilee Hall.
"Ted Williams is my favorite baseball player of all time," Pat said. "He really was the greatest hitter who ever lived. Williams has numbers—batting average, homeruns, RBIs, base hits—that would be untouchable if he hadn't taken five years out from baseball to serve our country in the military during World War II and Korea." Pat also has a special place in heart for Yankee great Lou Gehrig and the ALS cause. "If you're looking for a story of gratitude and courage, you don't have to look any further than Lou Gehrig," Pat told me. "To suffer what he did and still call yourself 'the luckiest man on the face of the earth.' How can you get any braver than that?"
As to whether there's anything left on his baseball bucket list, Pat still hasn't visited the Baseball Hall of Fame in Cooperstown. "I figure I'll need three solid days to see everything," he told me, "and I haven't managed to carve out that time yet."
Who's he pulling for in this year's World Series?  Houston, for sure. "It's only their second time in 55 years to win the pennant and the first time since they changed leagues in 2013. The New York Yankees were my first favorite baseball team and I've been a diehard American League fan ever since," he said. "Go, Astros!"
(October 29, 2017)