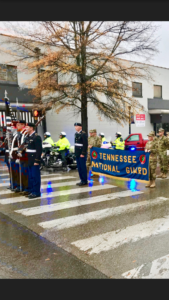 I pulled into a parking spot near North Jefferson Avenue last Monday morning just in time to see the camouflage-clad Tennessee National Guard marching band, caps pulled low across their faces, get off the bus. The Veteran's Day ceremony and parade was scheduled to begin in fifteen minutes. It was 45 degrees and pouring rain.
That was, no doubt, the reason for the less-than-gigantic crowd gathered at the north entrance to the Putnam County courthouse. I'd wrestled with myself all morning about whether to attend the parade in such dreadful weather, but somehow I just couldn't stay away.
Sunday, the actual 100th anniversary of the armistice that ended World War I, had been an unusually emotional Veteran's Day for me. I'd worn my red poppy lapel pin, adorned with the three stars from the Tennessee state flag, to church that morning. I shared with my Sunday School class John McCrae's beautiful poem "In Flanders Fields," which never fails to bring a lump to my throat. We are the Dead. Short days ago, We lived, felt dawn, saw sunset glow, Loved and were loved, and now we lie, In Flanders fields. I spent an hour that afternoon reading an essay filled with wartime memories and reflections written by a friend who served as an Army helicopter gunner in Vietnam.
I fell asleep Sunday night listening to Pete Seeger sing "Down by the Riverside." I'm gonna lay down my sword and shield, down by the riverside…Ain't gonna study war no more.
So I couldn't bear to skip the Veteran's Day parade. There were plenty of other folks who couldn't, either. We stood wrapped in ponchos and huddled under umbrellas, miniature American flags in hand, while County Executive Randy Porter welcomed us. Sheriff Eddie Farris said a prayer and Circuit Court Clerk Jennifer Wilkerson sang "The Star Spangled Banner." We recited the Pledge of Allegiance, listened to brief remarks by State Representative Ryan Williams and clapped when the D.A.R. presented a memorial wreath.
Then the parade began.
Police motorcycles led the way, followed by a couple of Tennessee State trooper SUVs. Next came the band, playing "Stars and Stripes Forever" with gusto, despite the unrelenting rain. There were fire engines and rescue squad vehicles and a tricked-out military Humvee. A truck towing a flatbed trailer filled with sopping wet hay bales followed the Humvee. (Apparently the people who were supposed to sit on those bales had bailed out.) Antique cars and trucks brought up the rear, followed at last by grand marshals John Buck and Jimmy Loftis.
And the parade was over.
As I sloshed back to my warm dry car, I couldn't help but think about the millions of soldiers in the cold, muddy trenches of Europe a hundred years ago. Or of all the other soldiers in all the other wars throughout our history. It's right and fitting that we honor them on Veteran's Day.
Rain or shine.
(November 18, 2018)