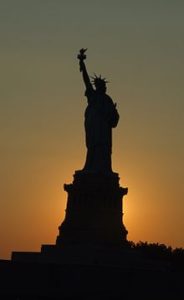 This column was supposed to be about my friend Vicki Love's participation in the January 21 Women's March in Washington, D.C. But when I phoned her to set up a time to chat, Vicki mentioned that she also planned to participate in a similar, albeit much smaller, gathering at the Putnam County courthouse. Would I like to join her?
Because I'm always on the lookout for column fodder, and also because I tend to lean the same way as those who'd organized the gathering, I said yes.
Good decision. For two snowy hours last Sunday, several dozen people clustered on the northwest corner of the square to advocate for compassion, equality and diversity. Folks came and went and few stood still in the bone-chilling cold so it was tough to get an exact head count, but at one time I counted about 100 people. That's not an alternative fact, cross my heart. The crowd was a mix of men and women of various ethnicities, young and old, able-bodied and physically challenged. They chanted slogans like THIS IS WHAT DEMOCRACY LOOKS LIKE and waved to passers-by. And they held up signs that spoke, far more eloquently than I can, of what the gathering was all about. Some of my favorites:
Make American kind again
I am no longer accepting the things I cannot change; I am changing the things I cannot accept
We will not go back to the 1950s
Resist!!! (next to a picture of the seal of the National Park Service)
Love Trumps Hate
"Injustice anywhere is a threat to justice everywhere" (Martin Luther King, Jr.)
We Remember (next to a Star of David)
The Statue of Liberty saying, "Don't make me come down there!"
Matthew 25: 40 (The Bible verse that quotes Jesus: "Truly I say to you, as you did it to one of the least of these my brethren, you did it to me.")
As you might guess, not everyone who gathered on the square that afternoon was of like mind. A handful of folks stopped to argue and one man carried a sign with contrasting sentiments. On one side was a picture of a handgun resting on top of the U.S. Constitution and the words HELPING PRESIDENT TRUMP MAKE AMERICA GREAT AGAIN. The other side of the sign said CHRISTIANITY, CONSERVATISM, CAPITALISM, COOKEVILLE NATIVE.
Which all goes to show you don't have to travel to Washington, D.C. to witness what democracy looks like.
(February 5, 2017)