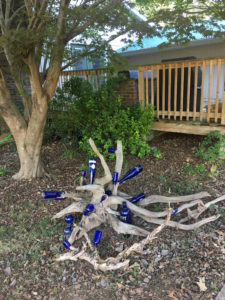 In the season when it behooves us all to be extra cautious about haints, I'm happy to report that my bottle tree is doing an outstanding job keeping them away. I've been working on it for a couple of years, ever since I discovered a beautiful piece of driftwood hidden in an out-of-control flower bed planted by a previous homeowner in my front yard.
I dragged the driftwood under the Japanese maple tree near my driveway and have been on the hunt for cobalt blue bottles to thread onto it ever since.
Historians believe the first glass bottles were made in 1500 B.C. in Mesopotamia. Around 1600, they began circulating throughout Africa. It was a widespread belief among natives of the continent that evil spirits were attracted to bottles. If bottles were hung in trees, spirits would find their way inside overnight and become stuck. In the morning, heat and light from the sun would destroy them.
The bottle tree tradition came to North America with the slave trade in the early seventeenth century. Throughout the south, bottle trees became a common sight. Not all bottles were hung from tree branches. Some were placed upside down on the branches of shrubs or on sturdy nails in fence posts. When the wind blew through the open mouths of the bottles, it sounded as though the ensnared spirits were moaning. Though all colors of bottles were used, cobalt blue was the most common because blue is associated with ghosts and spirits.
That's why I chose it for my driftwood bottle tree.
Blue bottles are harder to find than you might think, probably because bottle trees have become a popular trend through much of the country. Open any gardening catalog and you're bound to find several sizes and styles. You can buy a variety of bottles to go on the tree and–just like that!–you're done.
That wasn't my plan. I wanted my bottles to be unique and interesting. The obvious place to start was the liquor store. SKYY vodka comes in a beautiful cobalt bottle. But I'm not much of a vodka drinker, so it would likely take me the rest of my life to finish a quart. Fortunately, the solution was simple. I poured the vodka into a clear plastic bottle that once held grapefruit juice, labeled it with a sharpie, and put the SKYY bottle on the driftwood.
It looked great.
I added a cobalt blue bottle that once held Riesling wine that I serendipitously found next to a recycling bin. A six-pack of Bud Light Platinum, one of my least favorite beers but one that comes in a cobalt bottle, was the hostess gift I took to a cookout. I simply asked to take one of the empty bottles home when the party was over.
Thus my bottle tree began to fill up. I searched through antique shops and junk stores and the garages and storage sheds of some of my friends. A couple of my bottles once held Phillips Milk of Magnesia. A small one perched on a pointed tip at the top of the driftwood was labeled POISON. I don't know what the most of the other ones held.
My original piece of driftwood has been joined by a couple of lovely, smaller pieces I found in Watts Bar Lake, so the search for blue bottles continues. While visiting daughter Meg in Denver last week, we wandered through a Peddler's Mall, where I found an array of choices at bargain basement prices. The lady at the cash register was surprised when I told her what they were for. Not being from the south, she'd never heard of a bottle tree.
I can only hope the haints will leave her alone on Halloween.
(October 20, 2019)