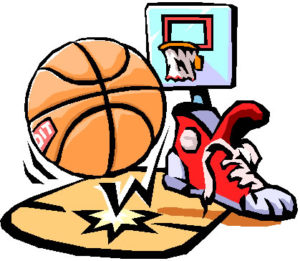 A long, long time ago, I coached in the training league division of Junior Pro Basketball. My teams were made up of seven, eight and nine-year-old girls. Most of them knew nothing about basketball when the season started. That changed as the weeks went by. During one particularly good year, our team made it all the way to the semi-finals of the tournament. Our season came to a heartbreaking end when we lost a squeaker of a game by one point. In the after-game huddle, several of the girls were crying. But no one was more upset than Betty Ann, who was absolutely inconsolable.
I put my arm around her shoulder. "It's okay, sweetie," I told her. "We did our best. In every game, somebody has to lose."
Betty Ann swiped at her wet cheeks with the back of her hand. "You don't understand, Coach," she said. "I'm not crying because we lost. I'm crying because basketball's over."
That's exactly how I feel this time every year. March Madness is like a drug. I go into withdrawal when the last buzzer sounds, even if none of my favorite teams are still playing. Eight SEC teams were invited to the 2018 men's tournament. As, one by one, they fell before making it to the Elite Eight, I was forced to choose new favorite teams.
Like many basketball fans, I fell in love with the spunky UMBC Retrievers when they beat Number One seed Virginia. Also like many fans, I had to go to google to find out the letters stood for University of Maryland, Baltimore County. When they lost, I had to pick another fave. Like many basketball fans, I found an unexpected one—Loyola Chicago, the very team that beat our Tennessee Volunteers. How can you not love a wholesome, scrappy team whose biggest cheerleader is a 98-year-old nun named Sister Jean?
A few other observations about March Madness:
–T.V. commentators pulled back on some of their overused words and phrases from previous seasons, such as "physicality," "verticality" and "high-basketball-IQ." But they replaced them with new, equally irritating ones. "You can't teach speed." "I like it!" And, most annoying of all, constant use of the term "resiliency," a verbose and pretentious substitute for the word "resilience." Good grief.
–Thumbs down to the men's hairstyle known as a "fade" that so many of the players sported. That's the cut where hair is close-cropped or completely shaved on the sides and of regular length on top. And call me a curmudgeon, but I think way too many players have gone way too far with tattoos.
–Hearty congratulations to Notre Dame, winner of the Women's Tournament with a three-point buzzer-beater, and to Villanova for winning the Men's contest. Here's hoping that two SEC teams will be brandishing national championship trophies in 2019. And that they'll both be wearing orange and white.
(April 8, 20018)