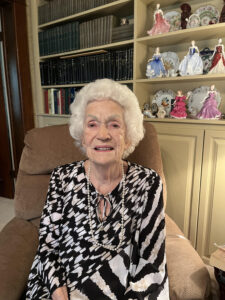 The first time I met Pinkie Hill, we were in an elementary school gymnasium. Her daughter, my friend Ruth Rhea Redus, and I were coaching a Junior Pro basketball team. One of our players was Ruth Rhea's daughter Andrea. Another was my daughter Meg. Pinkie and her husband Wayman were two of our team's biggest fans. They cheered with enthusiasm every time any of the little girls did even the slightest thing right.
Looking back on those days, I came to the somewhat shocking realization that Pinkie, who will celebrate her 100th birthday this coming Monday, was the same age then that I am now. Meaning we've been friends for a long, long time.
I travelled to Sparta a couple of weeks ago to visit with Pinkie. She lives in a stately home—built in 1865 and listed on the National Register of Historic Places—just a stone's throw from the town square and not far from the spot where the house she was born in on September 11, 1923 once stood. (And, yes, I asked her about sharing a birthday with perhaps the most infamous date in American history. She said it makes it easy for people to remember the date, but the fact that it was her birthday was the farthest thing from her mind on the horrible day when the United States was attacked by terrorists.)
For our interview, Pinkie sat in a comfortable recliner near a wall of bookshelves. She's an avid reader–averaging a book a week, with Karen Kingsbury being one of her favorite authors–and also a lifelong collector of Royal Doulton figurines, many of them artfully displayed among her books.
First question: Is Pinkie your real name?
Answer: No. My real name is Ruth Rhea, just like hers. (She pointed to Ruth Rhea, who was seated nearby.) I was so little when I was born–just five pounds—that my older brothers started calling my "My Little Pinkie," after a character in the newspaper. The name stuck.
Next question: Have you always lived in Sparta?
Answer: I was born here and went to school here (she was Miss White County High School, Class of 1941) but I went off to college at David Lipscomb and then transferred to Peabody. After that, I went all the way to Pepperdine University in California for my senior year. That's where I got my degree in accounting. I've travelled all over the world—Europe, Australia, Japan, the Holy Land. I've been through the Panama Canal and visited the Great Wall of China. But Sparta is my home.
Question: Tell me about your family.
Answer: Wayman died in 1994.We'd been married almost 46 years. Our family was blessed with three wonderful daughters. Now it includes six grandchildren and 16 grandchildren. I am rich indeed.
Question (the same one that's asked of every person who ever made it to 100): To what do you attribute your long life?
Answer: I've lived a good, clean life. No drinking. No smoking. Good food. Lots of exercise. Keeping my mind busy. Dear family. Dear friends. And I'm at church—Central Church of Christ here in Sparta—every time the doors are open.
Thus ended our formal interview. But it didn't end our visit. Ruth Rhea had invited me to stay for supper, which was delightful. I'd planned to head back to Cookeville after we ate. But no. Every night at 6:30, without fail, Pinkie watches "Wheel of Fortune." She asked me to stay and watch with her and I, of course, agreed. "You know Pat Sajak's retiring, right?"  I asked.
She nodded. "I've invited him to my birthday party, but I haven't heard back yet."
Pat, if you're reading this column, you still have time to say yes. Frankly, you'd be crazy not to. Because you won't find a more delightful centenarian anywhere in this world than my friend Pinkie Hill.
(September 9, 2023)