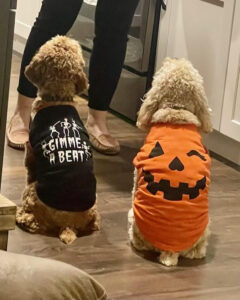 Sometimes, if you're lucky, a Halloween column falls right into your lap.
A couple of weeks ago, my friend Rebecca (a pseudonym, at her request) and I were climbing the mountain to Monterey—in a car, not on foot, thank goodness—for a work assignment. The conversation turned to dogs. Rebecca and her husband Mack (also a pseudonym) have two. They're full-blood brothers, though not from the same litter. Angus, nicknamed Gus, is two. Finneas, who goes by Finn, celebrated his first birthday not long ago.
When Rebecca told me she hoped to have time after work to shop for Halloween outfits for the dogs, I was surprised. "Your dogs have Halloween outfits?" I asked.
"Oh, yes," she said matter-of-factly. "They have lots of clothes."
Memories of a column I wrote years ago about dog clothes came flooding back. While researching it, I learned that many breeds of dogs should wear sweaters when the weather's cold because they're either too close to the ground or have inadequate fur to keep them warm or both. That's partially true of Gus and Finn.
"They're cockapoos," Rebecca told me. "Their mom's a cocker spaniel and their dad's a poodle. They're not bred for cold weather, so it's good if they're dressed warmly for long winter walks. But mainly I put clothes on them because it's fun," she said. "I did that with my dogs when I was a child and I've never stopped enjoying it."
"Do you dress them every day?" I asked.
She smiled and shook her head. "I usually just do it when I'm bored," she said. "Or when we're having company over. That's when I really like to get them dolled up." Both dogs have bandanas for most any occasion and both have classic black-and-red buffalo plaid Christmas sweaters. Gus, especially, loves clothes. "I call him my runway dog," Rebecca said. "Whenever I dress him in something cute, he actually smiles and prances as though he's in a fashion show."
Finn isn't quite as enthusiastic. "He's more of a clown than a clothes enthusiast," Rebecca said. "He's also the one most emotionally attached to me. He sleeps with his head on my pillow. Even better, after I serve him supper, he leaps into my arms, puts a front paw on each of my shoulders and covers my face with kisses."
But back to the Halloween outfits. Finn didn't have one because he was just a puppy this time last year. But Gus has a sweater that he's grown too chunky to wear. "He loves it, but it's so tight his back fat shows," Rebecca said with a laugh. "I'm afraid it's hard for him to breathe when he has it on." That's why she hoped to get home from Monterey in time to make a quick stop at the pet store.
Why not save some money and let Finn, who's not chunky, wear Gus's hand-me-down? Rebecca sighed. "I tried that," she said. "Finn seemed to like it, and it looked great on him, but Gus just wasn't going to have it. He actually seemed resentful. He followed his little brother all over the house giving him the evil eye."
So off to the store Rebecca went. From myriad choices, ranging from black cats to bats to witches on broomsticks to ghosts to haunted houses to candy corn, she chose a black t-shirt with glow-in-the-dark skeletons on it for Finn. Gus got an orange shirt adorned with a winking jack-o-lantern. If you're reading this column on Facebook or on my website, you'll no doubt notice that a picture of the dogs accompanies it. If you're reading it in the Herald-Citizen, I can only hope that Gus and Finn show up at your door on Monday night, along with the human trick-or-treaters, so that you can see just how adorable they really are.
(October 29, 2022)