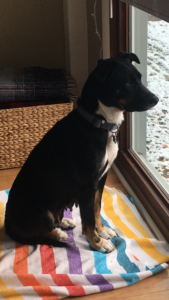 I swore I'd never get another dog. It hurts too much to tell them good-bye. Sophie, the cutest dog in the whole wide world, died in 2018. Iniesta, her sister, joined her on the far side of that rainbow bridge last June. I'm still grieving them both.
Then there's my age to consider. I have another you're-no-spring-chicken birthday coming up in a couple of weeks. If I was to take on a young dog now, might it outlive me? Who would take care of it if I couldn't? And there's the issue of travel. If and when the coronavirus is no longer a factor and I'm free to go where I want when I want, what would I do with a dog if I couldn't take it with me?
It was crazy for me to even consider such a thing.
Except that I walk a lot and am, in truth, envious of people strolling along with their canine companions. Many of my neighbors, especially those who for years saw me walking Sophie and Iniesta on a tandem leash, tell me the same thing: "You need a dog!" Add to the mix Covid isolation, which seems lonelier with winter coming on. Days are long when there's no place to go and no one to talk to. Nights are even longer. Phone calls help. Facetime helps. Zoom helps. But there's no substitute for having a living creature in the house with you, even a creature with a one word vocabulary: AARF!!!
Which is, I admit, a contrived segue into writing about All About Rescue and Fixin' (AARF for short), a local organization dedicated to rescuing and sterilizing stray animals and finding them good homes. On a recent cold, dark, lonely night, I logged onto their website.
There was Dee-Dee, a 45-pound border collie-mountain cur mix, about 18 months old, housebroken, crate-trained, sweet-natured. Hmmm. In order to find out more about her, I had to fill out an online form so that her foster parent could contact me. The form included questions about my past experience with dogs, about my house and yard and about my financial wherewithal to care for a pet.
Apparently, Dee-Dee's foster mom liked my answers. She called and we arranged to meet at Cane Creek Park, where we could all get to know each other. What did I have to lose?
It wasn't exactly love at first sight. Dee-Dee was initially too distracted by ducks on the lake and kids on bikes and—most of all—by the dozens of other dogs enjoying a sunny Saturday morning. But it was clear that she was a good dog. She was lean and strong and very cute, with a black head and body, white chest and belly and tan markings on her face and legs. Her ears stood up and then flopped over. She had a white tip on the end of her tail, just like Iniesta. When I plopped down in the grass to pet her, she scrambled onto my lap and wagged all over.
What could I do but say yes? The adoption process took a few days, enough time to order a crate and a dog bed and a big knotted chew rope.
I also ordered an item that many of my other dogs have worn: a reflective collar from L.L. Bean with my phone number and the dog's name embroidered on it. I didn't much like the name Dee-Dee, which AARF had assigned her. I considered several other choices (Katie? Sadie? Lilly?) before settling on the perfect name. Kamala. It's right for a lot of reasons, not the least of which is unapologetically political.
Kamala and I have been constant companions for two weeks now. It's clear already that she and I are a match made in heaven.
(December 12, 2020)