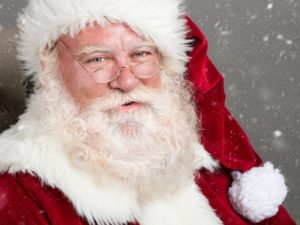 You may have noticed that Santa isn't the only fellow sporting a bushy beard these days. Big beards are everywhere, from forests to farms to city streets. The jolly old elf seems to do a pretty good job keeping the beard on his chin as white as the snow. But how do other men manage to keep their facial hair presentable? It could be they've discovered barbering products designed just for men.
  Not long ago, while perusing the shampoo-for-sale shelves at Professional Images Salon, I ran across some tubs and tubes and spray bottles labeled MVRCK by Mitch. There was pomade and grooming spray and skin tonic, all in manly black-and-white packaging. And there were several products designed specifically for beards.
"What's going on with all this stuff?" I asked Jennifer Smith, who owns the salon.
She told me that hair and beard products for men have recently become hot items. "Drug stores have been carrying body wash and lotions aimed at male consumers for a while," she said. "Now, the salon industry has gotten on board with barbering products."
Professional Images has been stocking the products for about six months. "It started with my own husband," Jennifer confessed. "When he grew his beard out, it was coarse and dry and completely unmanageable. I decided that chaos needed some major taming, so I started looking for products I thought might work." That's how she discovered MVRK by Paul Mitchell. "This is Mitchell's first foray into beard care," she said, "and so far it's been a big hit with our male clients."
About 40 percent of her salon's customers are men. "They don't tend to shop for products when they come in for a haircut or beard trim," Jennifer said, "but many of them become interested when our stylists suggest them. We also have lots of wives and girlfriends that purchase these products for the men in their lives."
Products for facial hair include beard oil (which softens coarse hair with lightweight shea butter and a refreshing agave citrus scent), skin + beard lotion (which controls and tames facial hair with a rich formula containing barley seed extract) and blade slip, a menthol shave detailer. And, of course, there's traditional shave cream and after-shave lotion.
"Our male clients wear their facial hair proudly, but they want it neat and clean," Jennifer said. "That's why we're so delighted to offer MVRK products at our salon. They come with a money back guarantee if you don't like them." If you'd like to check them out for yourself, visit Professional Images, located at 341 S. Willow Avenue (in the same building as Suntan Village), during regular business hours, or stop by their Christmas Open House today from 2:00 p.m. until 4:00.
Who knows? Instead of setting out milk and cookies on Christmas Eve, you just might decide to leave good Saint Nick some beard care products instead.
(December 2, 2018)