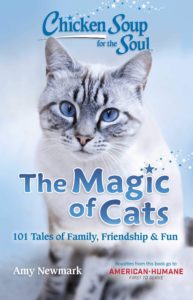 Despite Covid, the holiday shopping season has officially begun. If you're looking for that perfect gift for the cat lover on your list, why not consider a copy of "Chicken Soup for the Soul: The Magic of Cats"?
I recommend this book partly because I have a story entitled "Watson to the Rescue" in it. The story tells how I found a tiny gray kitten in a barn on Watson Road and brought him home because he promised to become a might squirrel hunter. Watson kept his word. He came to live with me in August 2019. Sixteen months later, the squirrels have vacated my yard. It's almost eerie. They no longer chase each other around the twin-trunk oak tree out back. They no longer nap on a high branch of the study sycamore at the edge of the woods. They don't even mess with the birdfeeders.
There's only one explanation for this miracle. Watson. I know for a fact that he kills squirrels. Twice, he's left their carcasses on the welcome mat near the step in my garage. The first time I found a dead squirrel, I was in a hurry. I dragged the mat to the edge of the driveway, hopped in my car and crossed my fingers that the buzzards who live in my neighborhood would dispose of the remains before I got home.
Nope. The squirrel was back in my garage when I returned, spread-eagle on his back and staring up at me with lifeless black eyes. This time, I scooped him up with a shovel and dropped him in my neighbor's burn barrel.
Squirrels aren't the only presents Watson brings me. There are dead lizards and frogs and field mice, none of which are particularly difficult to dispose of. There are birds, which makes me extraordinarily sad. Watson's specialty is rabbits, which he likes to behead and eviscerate. On good days, he eats them. Other days, he leaves the mess for me to admire and clean up.
"Watson to the Rescue" doesn't go into the gory details of his heroics, primarily because the raw truth is not for the squeamish but also because–when I submitted the story to the Chicken Soup editors several months ago–he hadn't become such a prolific killer.
But back to giving the book as a Christmas present to the cat lovers on your list. Typically, Chicken Soup authors get a paycheck and ten copies of the book in which their story appears. Due to pandemic complications, publisher Simon & Schuster decided to package "The Magic of Cats" in cases of twenty instead. So I ended up with nineteen extra copies taking up space in my office, which is already too jam-packed with books.
I gave one copy as a thank you gift to the neighbor with the burn barrel. The rest I took to the Cookeville-Putnam County Animal Shelter. Though they're not allowed to sell stuff, they can give away "donations appreciated" items, including books. In addition to my story, "The Magic of Cats" contains 100 other tales that cat lovers are sure to enjoy. The cover price is $14.95 but donations of any amount are appreciated. All monies go to help shelter animals.
Truth be told, most cat lovers don't need any more Crazy Cat Lady t-shirts or yoga cat refrigerator magnets or tumblers that say MEOW IF YOU LIKE WINE. But many would likely enjoy a good book to curl up with on a cold winter night. The animal shelter, located at 2650 Gainesboro Grade, is open from 1:00 until 4:30 except on Wednesdays and Sundays.
And while you're there, why not take a look at the cats (and dogs) who need good homes?
(November 28, 2020)