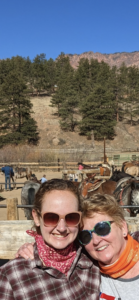 (…continued from last week)
Note to self: If you're 68 years old and haven't spent much time on a horse lately, don't overestimate your abilities. Or your bravery. And if you're used to riding smooth-as-silk Tennessee Walking Horses, don't be surprised when your body hurts all over after only a few minutes on a Quarter Horse. And just because you've ridden countless miles through the Cumberland Mountains without struggling to catch your breath, don't expect the same to be true in the upper reaches of the Rockies.
A horseback adventure out west had been at the top of my bucket list since I compiled that list years ago. So when daughter Meg offered not only to go with me but to plan the trip, I said yes. That's how we ended up in the middle of nowhere at Colorado's Lost Valley Ranch.
After supper on the evening we arrived, a wrangler named Gill came around to learn about the guests' riding skills and experience. (Interestingly, all the wranglers had cowboy names like Cody and Zack and Nate and Josh. And every wrangler was lean, young and handsome.) Level One was tenderfoot. Level Four was bronco buster, though Gill—being diplomatic–didn't actually use either of those terms. Because Meg and I had ridden horses for many years on our farm and felt confident about our abilities, we rated ourselves 3.5.
That's likely the reason I got matched up with a new-to-the-herd gelding that, for the purposes of this column, I'll call "Killer." To add to my troubles, I was assigned a saddle with stirrups that were too long even when set on the highest hole. I couldn't clear the saddle when I stood up in them. That's uncomfortable because you can't post a trot. It's also dangerous because you can't ride out a buck without risking a broken pelvis.
How come I didn't ask Caleb, my group's wrangler, to either fetch me a different saddle or to use a leather hole-puncher to fix this one?
In hindsight, which happened atop an 11,000-foot mountain, I should have. Killer decided he wanted to be line leader and charged to the front of the pack. When I tried to pull him around, he resisted. Big time. He tossed his head until his spit flew into my eyes. He spun to the left. He spun to the right. He lifted his front legs ever so slightly. He lifted his back legs in a way I knew could quickly become full-fledged bucking. That's when I dismounted and told Caleb I wanted a different horse.
"We're an hour from the ranch," he said. He shook his head as though he didn't quite know what to do. "There aren't any different horses."
Meg, bless her heart, insisted on trading with me. "You take Peaches, Mama," she said, handing me her reins. "I'll show Killer who's boss." It wasn't my proudest cowgirl moment, but I took her up on the offer and safely rode Peaches back to the ranch. Meg made it down alive, too, but proclaimed as soon as we entered the corral that she was done with Killer. "I never want to lay eyes on him again," she said.
And so it came to pass that, though I didn't officially lower my ranking, I chose gentler rides for the rest of the week, all of them on sweet Peaches. I went on a Kids' Ride to a cave where we heard the legend of One-Eyed Willie and Three-Finger Jake. I played a game with the intermediate riders where we held hands with a partner and loped across a meadow. I trotted for miles, with my stirrups exactly the right length, alongside beautiful Goose Creek.
And I traversed just enough high-in-the-sky rocky ledges to allow me to cross GO ON A REAL HORSEBACK ADVENTURE IN THE WILD, WILD WEST off my bucket list.
(May 6, 2023)