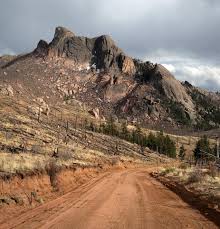 It was a bucket list item—riding horses in the wild, wild west before I got too old to swing myself up into the saddle—that landed daughter Meg and me in the middle of nowhere a couple of hours southwest of Denver earlier this month.
Lost Valley Ranch had been recommended by equestrian friends who promised that anyone who wanted to spend several hours a day traversing some of the most breathtaking—and challenging—terrain in the country on horseback would find just what they were looking for. "The only bad part," one friend warned Meg, "is getting there."  That observation was spot-on. The last nine miles of our route were on a dirt road, which—as it turns out—are more common in Colorado than I ever imagined. But this wasn't just any dirt road. It was narrow. It was curvy. It was almost two miles above sea level.
And there were no guardrails. One wrong move could have sent our car tumbling over the edge into the abyss.
The journey had started on a high note. From Denver, we exited busy Interstate-25, where snow-capped Pike's Peak loomed directly in front of us, and turned onto Happy Canyon Road, heading toward Sedalia. It wasn't long before we were travelling alongside the lovely South Platte River. The big-city hustle and bustle seemed a million miles away. This adventure was going to be FUN!!! My only regret (so far) was that I hadn't brought along my "Cowboy Songs" CD, on which Riders in the Sky sing such western classics as "Don't Fence Me In," "Back in the Saddle Again" and "Home on the Range," accompanied by lots of harmonic yodeling.
Our surroundings were fascinating. As we travelled up, up, up in the Pike National Forest, the landscape became apocalyptic. Though scrubby shrubs and golden grasses appeared to be thriving, most of the pines, aspens, spruce and fir that are common in the Rockies were absent. Blackened tree trunks poked out of the earth like giant spears. Deadwood littered the ground.
We were witnessing the fallout of the 2002 Hayman Fire, one of the largest and most devastating fires in Colorado's recorded history. The fire was deliberately started by Terry Lynn Barton, a Forest Service employee. More than twenty years later, it's still unclear why she lit a fire in a campground fire ring and then left it unattended. Some say she was burning a letter from her estranged husband. Others claim she wanted to be a hero by sparking a fire and then putting it out.
The fire Barton set consumed almost 140,000 acres and took six human lives. Miraculously, Lost Valley Ranch was spared.
But would Meg and I make it there intact? Would we make it there at all? As she drove white-knuckled along the precipice, I feared we might not. After several excruciating miles, Meg rolled to a stop and shook her head. "I can't do this," she said. "My vertigo has kicked in."
Dared I offer to take the wheel? I'm terrified of high places. I once turned around while hiking Hawaii's Kalalau Trail and backtracked many extra miles to avoid a steep ledge. On a visit to the Grand Canyon, I changed my mind about the mule ride because I feared falling to my death. I won't even venture out onto Monterey's Bee Rock. But I'm Meg's mother. It's my job to fix things, right? Luckily, before we could trade places in the car, I spotted the bed pillow I'd tossed into the back seat before we left home. "How about if I block your scary view with this?" I suggested, holding the pillow next to the right side of her face. She agreed to give it a try.
Not unlike a horse wearing blinders, Meg inched the car along until we were safely past the drop-off. Soon, we were at the ranch. As to whether anything scary happened there, stay tuned.
(April 30, 2023)