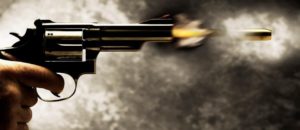 The familiar ding sounded around suppertime on April 4. I glanced at my cell phone. The text message was from daughter Meg, probably another cute video of baby Josephine. I opened the message to read these words: There was a shooting in our neighborhood. A man shot three people, one of whom is dead. I'm stunned, terrified, speechless. What is this world coming to?
Meg lives southwest of Denver in Centennial, long considered one of the safest cities in Colorado. Her upscale neighborhood is filled with trees and flowers and walking paths and playgrounds. It's a place where no one worries much about locking their houses or cars and where children can kick a soccer ball or ride bikes on quiet cul-de-sacs without parents hovering over them.
Until now.
Of course, I called her. And, of course, she was crying. Details were still so sketchy at that point that no one knew if the shooting was a random act or a targeted murder. But it was for sure that one person was dead, two others injured. The shooter was in police custody. "I don't know how to deal with this," Meg told me. "I walk this neighborhood with my precious baby almost every day. What if we had been on that street when the shooting happened? What does the future hold for Josephine?"
It's a parent's lot, and one I accept with both gratitude and trepidation, to try to explain the unexplainable to our children. Even when those children are grown up with children of their own. Even when we can't explain it to ourselves. So I urged Meg to remember the countless good things that had happened that day and the countless good things in her life. To believe with her whole heart that good people on this earth far outnumber bad. To realize that a life lived in fear is no life at all.
Yeah, but.
Who can forget the shattering violence that has thrust Denver into the spotlight three times in the last two decades? Twenty-plus wounded, 15 dead at Columbine High School in 1999. Seventy injured, 12 killed at a movie theatre in Aurora in 2012. Two dead after an angry young man brought weapons to Arapahoe High School in 2013 seeking to murder his debate coach.
The very school Josephine will attend if she's still living in Centennial as a teenager.
Meg and I talked about what, if anything, can be done to keep guns out of the hands of the mentally unbalanced. Or the hot-tempered. Or the careless. We talked about how much we hoped the shooting wasn't random, that there was a motive, however twisted.
As it turns out, the shooter was a man angry with his wife. Brandishing a gun, he chased her across their yard to a female friend's house and began shooting. Hearing  the shots, a 65-year-old physician who lived on the street ran outside to see if anyone was hurt and if he could help. The gunman put a bullet through the doctor, who died on the scene. The women are expected to recover.
If it's possible to recover from something like this. How can anyone who walks a dog or rides a bike or kicks a soccer ball or pushes a baby stroller through this "idyllic" neighborhood ever fail to remember this horrible, senseless act of violence and to wonder who might be next?
Even those who believe that a life lived in fear is no life at all.
(April 17, 2016)