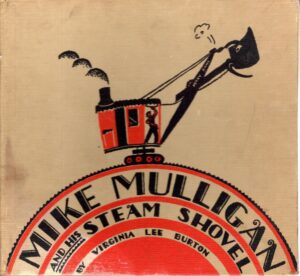 When I asked grandson Eli, who came to Cookeville for a visit last weekend, if I could read "Mike Mulligan and His Steam Shovel" to him, I expected a polite no thanks.
I'd pulled the classic children's story from a box of books that all but my youngest grandchild have outgrown. Or so I thought. Eli is ten now, twice as old as he was the last time I likely read "Mike Mulligan" to him. He's a fluent reader, which—I'm sad to say–often means the end of listening to read-aloud stories. He likes "Foxtrot" comic books and the "Diary of a Wimpy Kid" series, but he's really crazy about history books, including the "Who Was….?"  and "Magic Tree House" and "Nathan Hale's Hazardous Tales" series.
Eli plopped down next to me on the couch and grinned as I opened Mike Mulligan. "Was this book around when you were a little girl?" he asked.
I turned to the copyright page. "1939," I said. "Fifteen years before I was born."
"Ah," he said. "The year Hitler invaded Poland." I nodded. "I love the pictures in this book," he told me. "It's cool that Virginia Lee Burton illustrated her own story."
I nodded again. Then I began to read aloud the familiar tale of how Mike Mulligan and his beautiful red steam shovel Mary Anne had once held important jobs like digging canals for big boats to sail through. They'd cut through mountains so trains could go through and lowered hills and straightened curves so automobiles could travel long highways. They'd dug holes for the cellars of tall skyscrapers in big cities. Whenever people stopped to watch Mike Mulligan and Mary Anne work, they always dug a little faster and a little better.
But when steam technology became obsolete, most steam shovels were sold for junk and left in old gravel pits to rust and fall apart. "That's because gasoline equipment and Diesel equipment proved to be stronger and more efficient than steam," Eli explained to me. "Also, most steam engines were powered by coal, which causes a lot of air pollution."
Mike Mulligan wouldn't send Mary Anne to the graveyard. He'd taken such good care of her that she could still dig as much in a day as a hundred men could dig in a week. (At least Mike thought so, though he'd never been quite sure.) When word got out that the small town of Popperville needed a cellar dug for a new town hall, off through the countryside Mike and Mary Anne went.
Eli was quiet as I read how Mike Mulligan bargained with one of the town selectmen to dig the cellar. "If we can't do it in just one day," Mike promised, "you won't have to pay." I read how the townspeople came to watch as Mike Mulligan and Mary Anne dug all four corners and all four walls of the cellar neat and square. They finished just as the sun was going down. I read how all the spectators cheered when the job was done.
Now Eli spoke up. "They should have known to build a ramp," he said. "So Mary Anne could get out. That's what happens when you get in a hurry and don't plan ahead."
He was right, of course. Happily, though, a little boy in Popperville—whose bright idea was inspired by a real-life little boy name Dickie Birkenbush—suggested that Mary Anne remain in the hole and become the steam-powered furnace for the new town hall. Mike Mulligan became the janitor and they both lived happily ever after. I closed the book and Eli and I sighed in satisfaction.
"Want me to read it again?" I asked. "I'm learning a lot from you."
He shook his head. "No thanks." Then he picked up his copy of "Who Was Winston Churchill?" and began reading silently to himself.
(January 21, 2023)