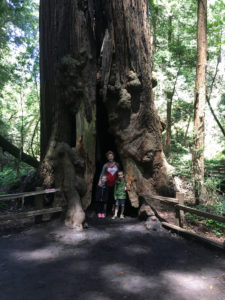 Until a couple of weeks ago, I hadn't been to visit my "Kentucky kids" since they up and moved to California last summer. Daughter Leigh took a job at UC Davis. Son-in-law Matt arranged to work remotely for his Lexington firm. So they loaded up two of my favorite grandkids—Eli and June—and headed west. That's the bad news. The good news is that they're moving back to Kentucky in August. I can hop in my car and go see them whenever I want.
In the meantime, I figured I better visit northern California while there was still somebody who would show me around.
I knew in my head that California is the breadbasket of the nation. But when I think of California, I tend to think of bright lights and big cities. LA, San Diego, San Francisco, Oakland. That's not what I saw as my plane descended to Sacramento. Croplands stretched as far as the eye could see. I learned that I was looking at almond and walnut and pistachio groves. Rice and wheat and corn fields. Strawberries and cherries. Citrus fruits. Most any vegetable you can name.
But that was only the beginning of my amazing California experience. I waded in the frigid Pacific Ocean at Muir Beach. I gaped at the towering redwoods in Muir Woods, where I used my National Park Service "Senior Pass" for the first time. I'd seen giant sequoias on a trip to Yosemite several years ago, but never redwoods, which are taller than sequoias but not as big around and not as old. I stood inside one of them with Eli and June.
We toured Old Sacramento, where we rode in an open-air railroad car on tracks that ran beside the Sacramento River. Then we walked across the river on the iconic Tower Bridge. We saw the California state capitol. We learned about the gold rush and the Pony Express. I took a picture of the kids standing in front of a bear made of 40,000 yellow Legos. That turned out to be Eli's favorite part of the day's adventures, it you don't count a stop at the candy store.
Next on the agenda was a Sunday afternoon birthday party for a friend who was turning six. And what a party it was, held on the enormous cattle ranch that belongs to the birthday girl's grandparents. As you might guess, this wasn't your typical balloons-and-cupcakes-and-pin-the-tail-on-the-donkey kids' party. I'll leave it at that.
The grand finale was a trip to Napa Valley and a tour of the Robert Mondavi winery, which was fun and fascinating. Not to mention tasty.
But the most fun thing I did had nothing to do with beautiful scenery or historic sights. It could have happened just as easily in Kentucky as it did in California. And it wasn't Eli losing both of his top front teeth, though that happened, too. Tune in next week to learn more.
(June 16, 2019)