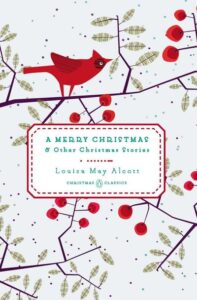 If the calendar falls just right, sometimes I get a handful of days before Christmas when not much is on my schedule. It's the perfect time to fire up the gas logs and curl up with three of my favorite pieces of Christmas fiction, all of which I've written about in years past. Each is short enough to finish in one sitting, if you don't keep getting up to re-fill your eggnog.
The first is a novella entitled "The Christmas Letters," written by Lee Smith and published in 1996. It follows the lives of three generations of Southern women as revealed in their annual Christmas missives. It's funny and poignant and heartbreaking all at the same time. Next is Truman Capote's incomparable 1965 short story "A Christmas Memory," a largely autobiographical re-telling of the author's lonely childhood in depression-era Alabama. Last but certainly not least is the 1997 short story "Home for Christmas" by Howard Bahr. In it, two children orphaned by the Civil War are smuggled by their freed slave from Memphis to Mississippi to live with their uncle, a Confederate soldier who has recently lost a leg in the Battle of Franklin.
I can't imagine Christmas without all three of these books in it.
Counting on a little extra reading time this year, I began the search for another short book that might be equally as wonderful. That's how I discovered "A Merry Christmas & Other Christmas Stories" by Louisa May Alcott. I know it's wrong to judge a book by its cover, but I did it anyway because the cover of this story collection is lovely. It's a drawing of gray tree branches adorned with bright red berries. A male cardinal poses in profile just above the title. Even if the stories don't delight me, I reasoned, the book is so pretty it should have a place on my December coffee table.
That didn't happen.
Because of supply chain issues, Amazon couldn't promise to deliver the physical book in time for me to read it and write this column. I could, however, order the Kindle version for $1.99 and have it instantly delivered. While I'm appreciative of e-books, they're never my first choice. I prefer to hold a book with paper pages in my hands, especially if it has the bonus of a beautiful cover. But desperate times call for desperate measures, so I ordered the electronic version of "A Merry Christmas" and received it in less than a minute. Amazing.
The first of the book's seven stories is an excerpt from "Little Women," a novel I never much liked even as a child because I found it sickeningly sweet. That opinion still holds. The other stories in the collection are equally syrupy. Most of them involve orphans—almost always poor, cold, and hungry—who sadly accept that a meager Christmas is their lot in life but who are surprised and delighted when someone with money and a kind heart provides them with a tree, presents and plenty to eat. Happy endings are not a bad thing, but they get boring pretty quickly.
The one story I kind of liked is "Rosa's Tale," primarily because its main character is a horse. Legend has it that on the stroke of midnight, when Christmas Eve becomes Christmas Day, animals can talk in human language for one hour. A girl named Belinda takes apples and cake to Rosa's stall and listens with delight as the horse munches on her treats and recounts the tale of her fascinating life.
That story, I'm sorry to say, isn't enough to save Louisa May Alcott's book, even if I owned a "real" copy with a beautiful cover. For now anyway, only the three aforementioned books have earned a place on my coffee table.
Merry Christmas to all and happy reading, whatever books you choose.
(December 24, 2021)