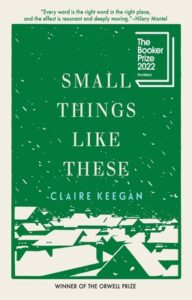 Sometimes a little book packs a big punch.
Such is the case with the slim novella that now sits atop the stack of beloved Christmas books resting on my coffee table. "Small Things Like These" by Irish author Claire Keegan, published in 2021 and shortlisted for the Booker Prize in 2022, joins Lee Smith's "The Christmas Letters," Howard Bahr's "Home for Christmas" and Truman Capote's "A Christmas Memory."
A paragraph from the jacket flap sums up the story this way: It is 1985 in a small Irish town. During the weeks leading up to Christmas, Bill Furlong, a coal merchant and family man, faces into his busiest season. Early one morning, while delivering an order to a local convent, Bill makes a discovery which forces him to confront both his past and the complicit silences of a town controlled by the church."
As you might guess, it's way more complicated than that. Our protagonist, who will soon turn 40–a milestone causing him a great deal of consternation and introspection–lives in the small Irish village of New Ross, where he was born and raised. The son of an unwed teenage mother, Bill was scorned as a child. Orphaned at age 12, he was raised by the kindly widow for whom his mother worked as a maid. Possessing intelligence, good character and a strong work ethic, Bill has become the owner of a business that supplies coal and firewood to the village. He's married to Eileen and they are the parents of five lovely daughters.
Looming over New Ross is the imposing convent occupied by the Good Shepherd Sisters, who run a "training school" for girls as well as a prosperous laundry business.
Here's where things get sinister. For years, there's been talk that the young women who live in the convent aren't actually students of anything, but are used as free labor for the laundry in exchange for room and board. The townspeople whisper that the convent also conceals a mother-and-baby home, where unmarried pregnant girls are hidden away until their babies are born and adopted out.
Thus the reader is introduced to "Magdalene Laundries," places of horror that operated in Ireland for more than 200 years. Prostitutes, unwed mothers, the insane and "feeble-minded" and other women and girls deemed unfit for society were taken, often against their will, into these for-profit institutions and forced to labor under the strict supervision of nuns for months, years or even their entire lives. Conditions were harsh at best and oftentimes exceedingly inhumane. Operated by Roman Catholic orders, they were supported by the Irish government, which funneled money into them in exchange for laundry services and which turned a blind eye to what was going on inside.
It's estimated that between 10,000 and 30,000 women were concealed, incarcerated and forced to labor in these institutions over the course of their history. Thousands of women, babies and young children died from neglect and abuse. Mass graves filled with their remains began to be discovered in the 1990s.  The last Magdalene Laundry was closed in 1996.
But "Small Things Like These" is not a sweeping history of Magdalene Laundries. Instead, Claire Keegan shows us one evil convent in one small Irish village through the eyes of a very good man who twice discovers the same filthy and barefoot teenager locked in an unheated coal storage shed, her breasts leaking milk because her newborn son has been taken from her. On Christmas Eve, Bill Furlong must decide what to do about this girl named Sarah. His decision will have enormous ripples for his family, his village and his ability to look himself in the mirror.
If you think I'm going to tell you what he decides, you're wrong. Because this is a story you should read for yourself, perhaps many times, and not just at Christmas.
(December 24, 2022)