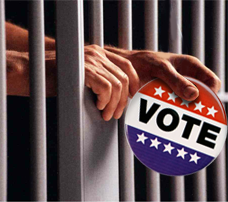 Did you know that prisoners are allowed to vote?
Neither did I until the folks at the Election Commission asked if I'd like to help with absentee voting at the Putnam County jail. Okay, okay, that's not exactly how it happened. When I found out that a staff member and two election commissioners were headed to the jail a week before Election Day, I begged to go along. For one thing, I needed a break from the frantic photocopying and date-stamping and ink pen-testing going on at the office.
But mostly I thought a trip to the jail might make for a good column.
Though Tennessee law does not allow most convicted felons to vote—exceptions are made for those convicted  during a grace period or before January 15, 1973, depending on the crime—voters who are incarcerated for misdemeanor offenses or who are accused felons awaiting trial are allowed to cast a ballot. I pictured a long line of hollow-cheeked men in stripes, and perhaps leg irons, queued up and ready to step one-at-a-time behind a privacy screen to cast their ballots.
That's not exactly how it went.
Inmates who are registered to vote may request an absentee ballot from the Administrator of Elections in their county of residence.  If everything checks out, voting materials are mailed to the inmate. Election officials arrange with the sheriff a time, exactly seven days before Election Day, to come to the jail.
Only three inmates in Putnam County were on the list to vote in the recent Presidential Preference Primary. We showed up at the jail at the appointed hour to find no welcoming committee awaiting us. Told to wait outside the intake door until someone buzzed us in, we huddled in the cold drizzle until a state trooper escorting a prisoner went inside and told a guard about us. After being admitted, we stood around some more, perusing bulletin board ads for bail-bond companies and notices to USE HAND SANITIZER and posters offering a $5,000 reward to anyone reporting cockfighting.
Finally, two female inmates dressed in prison "scrubs" were brought into the small, windowless room where we waited. They weren't wearing leg irons nor were they particularly hollow-cheeked. One at a time, they sat at a table with their back to us and marked the ballot. Then they slipped it into a stamped envelope—they're required by law to pay for the stamp—and handed it to us. They both thanked us for coming. We headed back to the office, stopping at the post office to mail the ballots, even though—you guessed it!—they were addressed to the Putnam County Election Commission.
As for the third inmate, she was on work duty and therefore not at the jail to vote. Could a sheriff's deputy bring her to the election commission office to vote later? Nope. She was a Jackson County resident incarcerated in Putnam County. So we had to return to the jail that afternoon to allow her to vote and then stop at the post office again to mail her ballot to Gainesboro.
Bottom line? This time, anyway, travelling to the jail to allow inmates to vote was an interesting exercise in democracy but not what I would call an exciting adventure. As to whether it made for a good column, you be the judge.
(March 20, 2016)