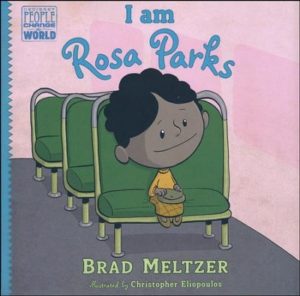 I hadn't planned to write again so soon about banned books. I figured that last week's column about the controversial Young Adult novel "All American Boys" was enough for a while.
Then I learned that the Central York School District in Pennsylvania was under fire for implementing a "freeze" on a lengthy list of books and educational resources focused almost entirely on titles related to people of color, many of them written by people of color. It happened in the fall of 2020, when a group of parents complained that these materials were "too activist in nature." They claimed that, rather than celebrating diversity, the materials had instead polarized and divided the community. The school board voted unanimously to remove the materials from classrooms and school libraries until they could be "vetted."
Two of the books on the list are especially surprising. Both were written by Brad Meltzer as part of his series of children's picture books "Ordinary People Change the World." Thus far, Meltzer has published more than two dozen books in the series, with subjects ranging from George Washington and Ben Franklin to Helen Keller and Dolly Parton.
"I Am Rosa Parks," published in 2014, tells the story of how Rosa, who–when she was a child in Alabama–wondered if "white" water tasted different from "colored" water since it came from different water fountains.  "I even wondered if colored water came in lots of colors," she said. She wondered why white children went to school in a new brick building with beautiful windows, new desks, and plenty of books. Plus a playground. Black children of all ages were crowded into one room in an old wooden building with only one teacher. No windows or desks and hardly any books.
Rosa explains that there were no civil rights back then. Black people had to ride in the back of the city buses. She knew it wasn't fair, but she wasn't sure what to do about it. Then she tells about the afternoon when she was 42 years old and coming home from a hard day at work. You know the story. A white man demanded she give up her seat to him. She refused and was arrested. This incident led to the Montgomery Bus Boycott of 1955-56 and the eventual desegregation of buses and other public facilities.
Another Meltzer title—"I Am Martin Luther King, Jr.," published in 2016—was also on the freeze list. Like the Rosa Parks biography, it tells of a segregated childhood. Every day, young Martin saw that black people weren't treated fairly or kindly. "The only question," he says, "is what could I do about it?" You know the rest of that story, too. Most adults do. But here's the thing. Many children probably don't, though they should. Educational materials like Brad Meltzer's books help teach hard truths. How will we learn not to repeat the mistakes of the past if we don't understand that some parts of the past weren't okay?
Thanks to intense public pressure from students, parents and educators in the community and all over the country—including protestors who sent thousands of copies of Meltzer's Rosa Parks and MLK books to schools and Little Free Libraries in the district–the Central York Board of Education reversed their decision last week.
Brad Meltzer and a whole lot of other folks, including me, celebrated the turn-around. Meltzer said this: "Racism is a hard subject. But nothing good comes out of not talking about hard subjects. We're doing our kids a disservice if we can't talk about race. When you're banning Dr. King and Rosa Parks, you're on the wrong side of history."
Amen, Brad Meltzer. Amen.
(Jennie Ivey is a Cookeville writer. E-mail her at [email protected])