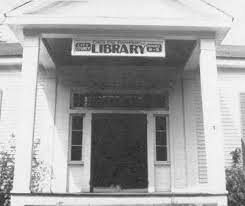 How do you start a library? Well…you could begin with a group of women deciding that a little town tucked away in the Cumberland Mountains of Tennessee needed one. These women could also decide it would be fitting to donate one book each to get the ball rolling. Not all libraries have such an interesting history, but that's just how it happened in Cookeville.
In 1922, twelve women–led by the indefatigable Clara Cox Epperson– formed a Book Lovers Club, the main purpose of which was to read and review books. The club members also concerned themselves with worthwhile projects, the foremost of which was a creating a lending library for the community. The aforementioned twelve books, and lots of others that were soon donated, were housed in the "Rose Cottage," the home of Miss Laura Copeland. She refused to charge rent but agreed to accept one dollar a month to help pay her electric bill. She also agreed to serve as the paid librarian.
As the collection of books and the number of people who wanted to read them grew, larger premises had to be found. The library moved from the Rose Cottage to the Herald Building in 1938 and then in 1943 to the former Howard Hospital Building, which it shared with the Putnam County Board of Education.
In 1972, a contemporary two-story 12,000-square-foot library named, as previous libraries had been, after Clara Cox Epperson was built at 50 East Broad Street in downtown Cookeville. That building now houses tens of thousands of books and scads of other educational materials.
I was honored to participate in a Readers Theatre there last weekend. The brainchild of Library Board member Cindy Putman, who wrote the script and directed the show, the program consisted of four acts. The first was a brief history of the Book Lovers Club, not unlike that which you just read.  Next, two cast members took turns reading Eric Carle's delightful children's board book "The Very Hungry Caterpillar."
Then came what I was sure would be my favorite part of the show, when cast members read a portion of Chapter Two from "To Kill a Mockingbird." That's the chapter where Scout tells about her first day of first grade, when she's chastised by her sweet-but-clueless young teacher for already being literate, having learned to read while sitting beside Atticus every evening while he read aloud to her. The teacher orders her to stop doing that immediately, so that she can be taught to read through proper methods. "I could not remember when the lines above Atticus's moving finger separated into words, but I had stared at them all the evenings in my memory," Scout says with dismay. "Until I feared I would lose it, I never loved to read. One does not love breathing."
How can you top that?
Perhaps by listening to a seven-member cast read a condensed version of the opening chapters of "Cold Sassy Tree," the wonderful 1984 novel by Olive Ann Burns. Grandma Blakeslee is scarcely cold in the ground when her grieving widower announces that he's aiming to marry Miss Love Simpson, who works as the milliner in his general store and who is not much different in age than his own two daughters. The townspeople of Cold Sassy Tree are scandalized, except for grandson Will Tweedy, our narrator, who has something of a crush on Miss Love Simpson himself.
None of those books had been written when the founding members of the Book Lovers Club made their library selections in 1922. But if they had, I feel certain they would have made the list. Happy 100th Birthday to the Book Lovers Club and to the Putnam County Library. May the next one hundred years be just as wonderful.
(September 3, 2022))