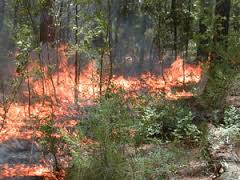 Adolescent brains are different than adult brains. Anyone who's ever hung out with teenagers knows that. So what should be done with the two juveniles accused of starting fires that burned 17,000 acres in or near the Great Smoky Mountains National Park, damaged or destroyed almost 2,500 structures and forced a week-long evacuation of Gatlinburg during one of its busiest tourist seasons?
Before you answer, keep in mind that the fires also took the lives of 14 innocent people.
Because state law protects the identity of underage offenders, we don't know a lot about the boys who face charges of aggravated arson and perhaps other crimes, including felony murder. Sources told the Knoxville News-Sentinel that the boys are residents of Anderson County and are friends. One is 17 and the other 15. While hiking at Chimney Tops on November 23, the boys were seen dropping lighted matches onto the trail despite a widely publicized no-burn order. Another hiker unwittingly captured a photo of them walking away from the trail while smoke rose in the background. Investigators later identified the suspects based on their clothing.
The boys are being held in juvenile detention in Sevier County. A hearing originally set for December 9 was delayed and, as I write this column, has not yet been rescheduled.
Which gives the millions of people devastated in one way or another by the Smokies fires time to contemplate how justice might best be achieved in this tragic situation. Should prosecutors seek to have the teens tried as adults? Under the charge of aggravated arson, the 17-year-old could be transferred to adult criminal court but the 15-year-old could not. If the charges grow to include felony murder, both boys could be tried as adults.
It boils down to this. Should these young men be punished as criminals or should the justice system try to help them understand the enormity of their mistake in a way that, perhaps, won't destroy their lives?
A tough call. Arson isn't a prank. It's not rolling someone's yard with toilet paper or spray-painting graffiti on a wall or smashing a mailbox with a baseball bat. People died in these fires. Homes and businesses were reduced to piles of ash. Our beautiful Smoky Mountain forest was blackened.
These boys must be made to face the consequences what they did. If I were the judge, I'd start by ordering them to walk every square foot of the environment, both natural and man-made, that they destroyed. I'd make them get eyeball to eyeball with the families of every person who perished in the fires. I'd insist they have long conversations with emergency personnel who so bravely and tirelessly responded to the disaster. And then I'd hand them each a shovel and put them to work helping clean up the mess.
After that? Some time behind bars seems appropriate.
(December 18, 2016)