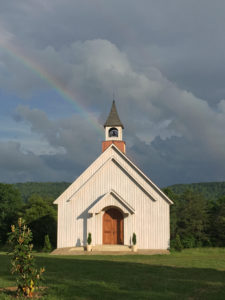 It was the first time I'd ever witnessed a steeple-raising in person, and it was amazing. A gigantic crane lifted the massive base and belfry up, up, up above the roof of the lovely chapel at Lanes' Bend and, with absolute precision, set it into place. Once it was secured, the spire—complete with lightning rod–was attached.
Everyone on the ground clapped and cheered.
That happened just two weeks ago. Yesterday, Lanes' Bend officially opened for business as a wedding and event venue. Owned and operated by Andy and Traci Lane, it's located on seven beautiful acres at 2270 Highway 70 East, less than a mile from I-40's exit 290.
Lanes' Bend features a 1500-square foot whitewashed board-and-batten chapel and a 3200-square foot covered reception deck that includes a caterer's kitchen, restrooms, a large dance floor with a breathtaking mountain view and a stage for live musicians or a disc jockey. Also available as part of the wedding package is a sweethearts' cottage featuring a living/dining room,  small kitchen, bridal dressing room and bedroom suite with a large picture window overlooking City Lake.
"Ever since I was a pre-teen, it was my dream to have a wedding chapel," Traci told me. "I thought it would be the most romantic thing in the world to be part of someone's special day, a day a married couple would remember forever."
Traci and Andy live just across the driveway from the venue. She once operated a day care out of her home. Andy is a custom cabinet builder at Collins Manufacturing Company, but his expertise goes far beyond cabinetry. A highly skilled woodworker, he designed and built not only the chapel's steeple but also the gorgeous arched doors and porch ceiling at the chapel's entrance.
"This dream has been a long time in the making," Traci said. "We drew up a business plan for Lanes' Chapel and presented it to Andy's uncle. With his enthusiastic support and a generous loan, we jumped into this project with all four feet. Now that we're getting ready to open, it seems almost surreal to be surrounded by family and friends who believe in us and are doing everything they can to help us succeed."
In addition to weddings, the venue—which is large enough to accommodate 150 guests–is the ideal place for birthday or anniversary parties, family reunions or most any other reason people get together to celebrate. Somewhere down the road, Andy and Traci hope to offer bluegrass-and-gospel Sundays and other musical events. But for now, weddings are the primary focus. "We're thrilled and grateful that Lanes' Bend has become a reality," Traci said. "It all goes to show that with faith and a lot of hard work, dreams really do come true."
For more information, contact Traci at (931) 265-6423 or find Lanes' Bend on Facebook.
(June 4, 2017)