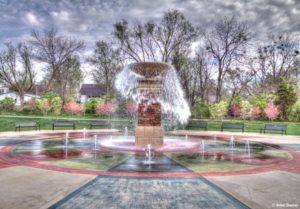 A narrow creek meanders through Dogwood Park, dividing the fountain area from the new Heart of the City Playground. Every now and then I hang out beside that creek, not just to listen to it babble and watch it sparkle in the sunlight—though this is pleasant enough in and of itself–but to try to figure out where it lies in relation to the old Town Spring.
Long before there was a Cookeville, Native American hunters and warriors likely drank from that spring. As the migration of settlers from Virginia and the Carolinas picked up steam in the late 1700s, travelers heading west stopped to rest beneath the shade trees that grew near the spring. Some of those travelers decided to stay. By the middle of the nineteenth century, Putnam County was born.
In 1855, Charles Crook sold 40 acres of land in what would become the heart of our downtown to the Putnam County Court. The price? One hundred dollars. The cold and swiftly flowing spring located near the present-day Whitson Funeral Home became known as the Town Spring.
It was one of the determining factors in Cookeville being chosen county seat.
The spring was a gathering place for the community. To quote the late Nancy Jarrell in her foreword to a 1986 anthology of poems and stories by Cookeville writers, "Here at picnics and watermelon feasts was the spot where the small talk of the town was exchanged, where deep political and religious convictions were spoken, where local stories were repeated and observed. Here the town vision was enlarged and its heritage celebrated."
But decades passed and "progress" came to Cookeville. Most people who conducted business downtown drove their cars there. So we paved paradise and put up a parking lot.
By mid-twentieth century, a strip mall sat west of the covered-over town spring. At one time or another, its occupants included Kroger, Big K Department Store, Heilig-Meyers furniture store and Western Auto. When I moved to Cookeville thirty years ago, there was a Hobby World craft store and a tiny little Sears where you could pick up catalog orders. That store was crammed so full of home appliances and TV sets that you could hardly turn around. Because there wasn't enough room inside for warm weather items like bicycles and lawnmowers, they were crowded onto the sidewalk.
And let's not forget Cotton Eyed Joe, the cowboy dancing-and-drinking club that was all the rage for a few years. Not everybody was happy when it was bulldozed to make way for park expansion. In an online opinion posted in 2010, one anonymous mourner wrote "Cotton Eyed Joe was the best club Cookeville ever had. Sure there was violence and stuff but it was always took (sic) care of. How is having a park there going to be any better?"
I don't know who you are, buddy, but I can tell you that Dogwood Park is a darn sight better than a bar. Or a Big K. It has a rose garden. A band shell. Fountains. Benches. Walking paths. Restrooms. Trees. An awesome all-inclusive playground. Once again, our town has a lovely place where people can gather to picnic and exchange small talk and speak of deep political and religious convictions and celebrate our heritage.
If we could but discover and uncover the old Town Spring, paradise just might be restored.
(March 27, 2016)