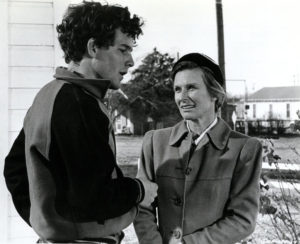 There are a handful of books I read as a teenager that I've never quite gotten over. "The Last Picture Show" by Larry McMurtry is one of them. I can't remember how I first discovered the 1966 novel, McMurtry's third, though I'm certain it wasn't in school.
It's likely I happened upon the paperback in a bookstore and its cover struck my fancy. It pictured a teenage couple standing in front of a big yellow, gold and brown concentric circle. The boy is dressed in swim trunks and has a towel draped over his shoulder. The girl is wearing a bikini and is snuggled up real close to him. That was enough for seventeen-year-old me.
Billed as a wild, heartbreaking and poignant coming-of-age novel, "The Last Picture Show" opened my eyes to a lot of things. Things described in such R-rated detail that I was careful never to leave the book lying around where my mother might be tempted to take a peek inside.
But even though the titillating scenes were abundant, they weren't the only reason "Picture Show" drew me in. They weren't even the primary reason. Even at that age, I recognized an excellent story told by an excellent writer when I stumbled upon one. Set in the early 1950s, the novel revolves around two high school buddies, Sonny and Duane, trying to navigate life and love in a dying west Texas town.
The book was made into an equally excellent movie in 1971. Filmed in gritty black and white, it stars Timothy Bottoms, Jeff Bridges, Cybill Shepherd, Ben Johnson and Cloris Leachman, who is the reason I'm writing this column.
I first became aware of Leachman, who died last week at the age of 94, when she played the hilariously self-absorbed landlady Phyllis Lindstrom on "The Mary Tyler Moore Show." Though "Picture Show" was made at the same time as "Mary Tyler Moore," Phyllis Lindstrom bears no resemblance to Ruth Popper, the character Leachman portrays in the movie.
Ruth, age 40, is Coach Popper's wife. Theirs is a lonely and loveless marriage. When Sonny agrees to drive Ruth to the doctor one afternoon ("I'll get you out of civics class if you say yes," Coach tells him), the seeds of a relationship are planted. Ruth, like Sonny, is quietly desperate to find meaning in her bleak life. Home from the doctor visit, Sonny sits at her kitchen table and drinks a Dr. Pepper while Ruth weeps.
The next time he drives her, she invites him to the bedroom.
Not surprisingly, things grow complicated. Everyone in town, except Coach Popper, knows what's going on. In the meantime, Jacy Darrow, the selfish and manipulative prettiest girl in town, sets her sights on Sonny. On the rebound from two failed relationships, she talks Sonny into taking her to Oklahoma to get married. He says yes.
I streamed "The Last Picture Show" last weekend when I learned that Cloris Leachman had died. I still enjoy reruns of "The Mary Tyler Moore Show." I still watch "Prancer," in which Leachman played a bitter hermit who finds the true meaning of Christmas, every December. But for me, she'll forever and always be Ruth Popper.
At the end of the story, Sonny shows up at Ruth's door. She apologizes for being in her housecoat so late in the day. Then she comes to her senses. "You're the one who made me quit caring if I got dressed in the morning or not," she says. She flings the coffee pot against the kitchen wall and sinks into a chair. She and Sonny clasp hands. "Never you mind, honey," she tells him. "Never you mind."
It's a scene that will break your heart. It's what great writing and great acting are all about. Even a seventeen year old can recognize that.
(February 6, 2021)