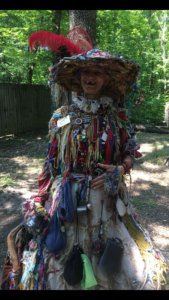 For almost twenty years, I've gawked at the castle-on-the-hill visible from Highway 840 just west of Murfreesboro. I learned some time ago that it's a private residence called Castle Gwynn, built in 1970 and hosting the Tennessee Renaissance Festival since 1986.
"Someday I'll go to that festival," I'd promise myself every time I drove past it. Last weekend, I kept that promise.
I teamed up with photographer extraordinaire Wade Payne, whom I've worked with on several stories for Guideposts magazine. We were delighted to discover that the Tennessee Press Association passes provided by this newspaper entitled us to complimentary entrance to the festival. Right off the bat, Robin Hood greeted us from a tree limb. Then up walked a guy lovingly caressing a sloth puppet. Next was a rag lady in a costume so elaborate I couldn't quit staring. There were pirates and princesses and knights-in-shining-armor.
Most fascinating of all were the satyrs. In case your recall of ancient mythology is rusty, I'll remind you that satyrs were lusty woodland spirits who personified the wild and free life of the forest. They had a human torso and face, with pointy ears and little horns sprouting from their foreheads. Below the waist, satyrs had the body of a goat—tail, cloven hooves and all. Mythological satyrs were males who spent the majority of their time pursuing wood nymphs through the forest. Though there were wood nymphs aplenty at this year's Renaissance Festival, there were also many female satyrs.
Vendors offered a vast array of retail merchandise. Fairy art. Jewelry. Historical clothing. Birdwhistles. Suits of armor. Wizarding tools. Drinking horns. Swords, daggers and various other weapons. You could get your palm read or your face painted or feast on everything from roasted turkey legs to jester chips to meat pies to made-on-site pork skins. One of my favorite parts of the day was touring the first floor and the gardens of Castle Gwynn, which really is a one-of-a-kind place.
Everywhere we went, people commented on Wade's equipment. He wore two 35mm digital cameras around his neck and carried one attached to a monopod. That camera has a 400mm lens, which is gigantic. Best of all, it's purple. "Now that's a lens!" he was told over and over again. But my favorite thing people said to him was "Who are you shooting for?"
Wade has worked as an independent photographer for almost thirty years. He sells photos to the New York Times and Washington Post and shoots regularly for the Associated Press. You've likely seen his photos if you're a fan of Big Orange football and basketball. He photographed the controversial finish at this year's Kentucky Derby. But to my ears, his answer was better than any of those credentials: "I'm shooting for the Cookeville Herald-Citizen." You can see some of Wade's amazing festival photos in the MORE! section of today's paper.
The Tennessee Renaissance Festival, located at 2124 Newcastle Road in Arrington, continues today and tomorrow from 10 a.m. until 6 p.m.
(May 26, 2019)