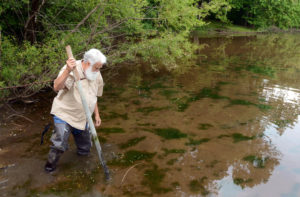 Which items should be priorities in Cookeville's master recreation plan? That was the question put to anyone who chose to respond to a recent Leisure Services Department survey about recreational wants and needs in Cookeville. Though I don't live within the city limits, I took the survey because no one told me I couldn't.
My number one wish? Keep city-owned City Lake from becoming unusable. (DISCLOSURE: I live in Eastlake Estates, where some lots have lake frontage. Mine doesn't, though I can see the lake from my front porch.)
The once-lovely 35-acre lake, located five miles east of the square near where Highway 70N meets Bridgeway Drive, is suffering. In 1946, the Falling Water River was dammed to create a lake that would supply water to Cookeville. All was well until the early 1970s, when it became apparent that the little lake couldn't keep up with the demands of a steadily growing population. Cookeville began getting its water from Center Hill Lake in 1973. City Lake became the neglected stepchild.
Seventy-five years will take its toll on any small body of water, particularly one that's not taken care of. Siltation happens when leaves, tree branches, grass clippings and goodness only know what else (perhaps, some folks have suggested, even sewage and agricultural runoff) get into the lake and sink to the bottom. With every day that passes, City Lake grows murkier and shallower and moves less freely. Though some parts of the lake are still quite beautiful, others are unappealing to look at and to smell, particularly during dry spells. As I write this column, a scummy layer of pollen and feathers coats the surface of the lake on either side of the bridge.
I won't eat a fish that comes out of the lake. I won't let my grandkids wade—or, heaven forbid—swim in it. I do my best to keep my dog and cat from drinking from it.
Though it would be difficult to tally how many people use City Lake, I know from living here for more than six years that it's immensely popular with wildlife-enthusiasts. The lake and its environs are home to muskrats, beavers, deer, foxes, coyotes, groundhogs, squirrels, skunks and raccoons, as well as fish, turtles, snakes, frogs, ducks, geese, hundreds (or perhaps thousands) of vultures, blue heron and even the occasional bald eagle. Fishermen and kayakers use the lake on a daily basis.
The parking area near the bridge is often filled with vehicles, especially on weekends. There's a boat launch ramp and picnic tables and a viewing platform where visitors can feed the geese that congregate there. Unfortunately, there are no restrooms. There's not even a port-a-potty.
The best thing about that parking area?  It's where the 0.6 mile (round trip) trail that leads to the City Lake waterfall begins. On a partially-paved path, visitors can meander through lovely woods beside a lovely creek and end up at a lovely waterfall that's especially impressive after heavy rains. They can tromp through the creek and hunt for crawdads. They can stand under the waterfall and get drenched. All without paying one red cent for the pleasure.
The Leisure Services Department has a lot to consider in planning its budget, including the notion that a high-dollar aquatics center/ice skating rink is just what Cookeville needs. Likewise the need for more tennis courts and pickle ball courts and concert venues and dog parks. I'm not saying those things aren't wonderful and worthy. But I am saying that before the city undertakes lots of new and expensive projects, we need to devote sufficient resources to care for what we already have.
The clock is ticking on City Lake. Not to decide is to decide. Let's commit to saving this natural treasure before it's too late.
(May 29, 2021)