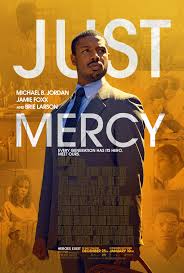 As I settle in front of my computer to write this column, it's Martin Luther King Jr. Day. To "celebrate," thousands of gun rights advocates have descended upon Richmond, Virginia to lobby against gun control measures being considered by the state legislature. Law enforcement officials fear that white nationalists may also be in attendance, including an especially insidious group known as "The Base." Several of that group's members, some of whom planned to be at the Richmond rally, were arrested last week. The Base seeks to overthrow the U.S. government, create a white ethno-state and commit acts of violence against minority communities in order to start a race war.
Such news lay heavy on my heart as I entered the Highland 12 theatre last week to watch "Just Mercy." It felt even heavier when the movie was over.
I thought I knew what to expect before I bought my ticket. Though I hadn't read the book, I'd see previews for the film, which is based on the true story of African-American attorney Bryan Stevenson. Born in 1959 and raised in a segregated community in rural Delaware, Stevenson was educated at Harvard Law School. He moved to Atlanta to work for the Southern Center for Human Rights and was soon tagged to run their office in Montgomery, Alabama. He founded and continues to work tirelessly for the Equal Justice Initiative and other progressive causes.
The movie opens on an evening in 1987 when Walter McMillian, a black man, is stopped by police on the way home from his job as a logger. He's accused of murdering an 18-year-old white woman in Monroeville, Alabama. Before his trial even begins, McMillian is locked in a cell on Holman Prison's death row. Despite a preponderance of evidence proving his innocence, he is convicted and sentenced to die in the electric chair.
Then Bryan Stevenson steps in. He's determined to defend McMillian and dozens of other inmates wrongly condemned or denied proper legal representation. His efforts, not surprisingly, are unwelcome in a place where it doesn't much matter if the poor and downtrodden are treated fairly, especially if they're black.
But wait. Isn't Monroeville, Alabama the hometown of Harper Lee, whose Pulitzer-prize winning 1960 novel "To Kill a Mockingbird" remains a stinging indictment of racial injustice in Depression-era Alabama? Yes it is. Didn't the millions of us who read "Mockingbird" or saw the movie know beyond the shadow of a doubt that Tom Robinson was innocent of raping Mayella Ewell, even though an all-white jury ruled otherwise? Of course we did. And didn't we believe that once injustices like this were exposed to the cold, hard light of day that things would change in Alabama and elsewhere? Yes again.
But decades later, the stories of Bryan Stevenson's clients prove otherwise.
There was a time when I thought the execution of John Coffey in the 1999 movie "The Green Mile" was the most gut-wrenching scene I'd ever witnessed. It convinced me that the death penalty has no place in civilized society. My reaction to the electrocution of Herbert Richardson, a black veteran of the Vietnam War who suffered from debilitating PTSD but received no medical treatment and who was one of Bryan's Stevenson's clients, was even more visceral. I challenge anyone with a conscience to watch it and remain on the fence about capital punishment.
And I challenge anyone who watches "Just Mercy" to emerge from the movie theatre unchanged. I don't know how to go about ending racial and class discrimination and injustice in this country, but one thing I do know is that looking the other way isn't the answer. Neither is hand-wringing. Here's hoping that writing a column about it for a local newspaper might be a good, albeit small, first step.
(Jennie Ivey is a Cookeville writer. Visit her website at jennieivey.com)