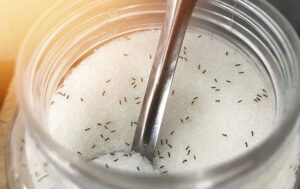 As the rain came pouring down, the ants came streaming into my house. They attacked every crumb on the countertops. They formed single-file lines in the cabinet under the sink and made their way into the garbage can. In a bowl filled with coffee grounds and strawberry tops and peach pits that I'd waited too long to take out to the compost barrel, they threw a party worthy of New Year's Eve.
And I remembered what my late mother always said about ants: When the weather's wet, they come inside to keep from drowning.
Then the rain stopped. On the rare occasions when clouds gathered, they produced nothing. Temperatures crept toward double digits. Twice a day, every day, I dragged the garden hose to my flower beds, desperately trying to keep things alive. Water in the bird bath and dog bowl seemed to evaporate before my very eyes. Still, the ants came streaming in.
And I remembered what my late mother always said about ants: When the weather's dry, they come inside because they're thirsty.
I also remembered what a frustrated exterminator once told me when I begged him to do something about my ant infestation. He sprayed. He put out traps. He sprinkled borax. He set glue sheets in strategic places. Finally, he threw up his hands in despair. "I surrender," he told me. "You're one of those people who just have ants." He went on to assure me that ants aren't nasty like flies or roaches and that my best bet was to squash as many as I could and learn to live in harmony with those that remained.
So, for the past thirty-something years, that's pretty much what I've done.
But, for a long time, I drew the line at eating them. I know you can buy chocolate-covered ants and ants suspended in lollipops and salt-seasoned ants in re-sealable bags. If you don't believe me, go shopping on amazon. But I was never tempted.
Until last week. A friend had recently undergone hip replacement and I wanted to take her some homemade peanut butter cookies. My flour-free recipe is simple: one cup peanut butter, one egg, one teaspoon vanilla, and one-half teaspoon baking powder. Combine with—you guessed it!—one cup sugar. You probably also guessed that ants had breached what I thought was the tightly sealed glass sugar jar I store in my pantry.
What to do?
I poured a huge mound of sugar onto a plate, wet my right index finger and began poking the ants, which easily stuck to my finger. I washed each ant (and there were dozens) down the drain with hot water. After a very long while, the sugar was "clean." No reason not to go ahead and bake cookies with it, right? Especially if I added a little Hershey's cocoa to darken the dough just in case I'd missed an ant or two. That's when my better judgment, and my conscience, kicked in. I picked up my phone and googled DO ANTS CARRY DISEASE? The answer is yes, they can. Whatever their little legs had walked through before they crawled into my sugar jar could make a person sick. Unlikely, but possible.
The only thing worse than being laid up with a new hip would be adding salmonella or E.coli to the equation. So I dumped the sugar back into the jar and put it in the freezer so as not to attract any more ants. Then I borrowed a truly clean cup of sugar from a neighbor and got busy baking.
The cookies were delicious. And safe.
Since then, I've bought new sugar and put it in an impenetrable Tupperware canister. I've wiped down the kitchen counters with vinegar. I've sprinkled borax under the sink. I'm doing my best to live in harmony with the ants that remain. When the weather gets wetter, or perhaps drier, I trust they'll move back outside. At least for a little while.
(September 2, 2023)